Miss Sexuality Weds The Yankee Clipper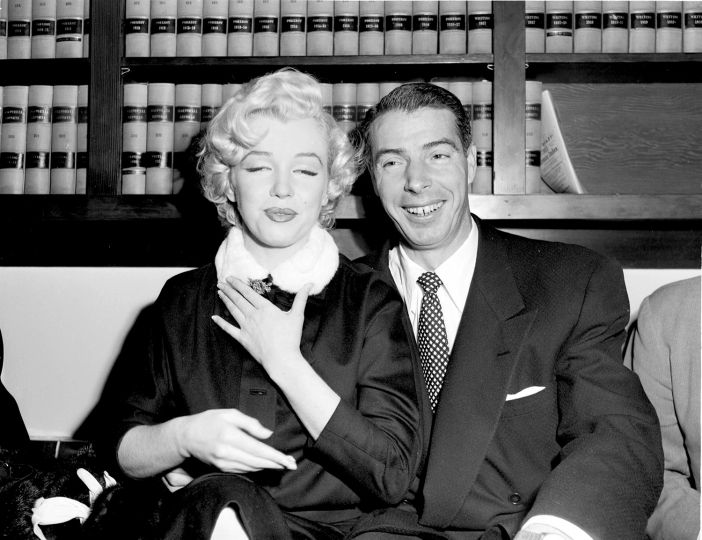 The new year began with turmoil. For failing to appear on the sets of The Girl in the Pink Tights for prescribed tests, 20th Century-Fox suspended Marilyn on January the 4th and stopped paying her. The studio drew a line; Marilyn drew a line; and then they each telephoned their attorneys. Soon, the conflict became public. All Marilyn wanted, her attorney announced, was an opportunity to review the script, to ensure that it was right for her. Fox countered by notifying the public that she did not have or need script approval, as if the public actually cared about the contractual arrangements of America's sex symbol, the adored and even idolized Marilyn. I couldn't believe she'd be this crazy! Zanuck declared. I read the script and didn't like it, Marilyn replied. The part isn't good for me. It's as simple as that. Her fans did not care about Marilyn's contract with Fox but they cared about what she wanted and many were troubled by Marilyn's dismissal over what most thought was a reasonable request, particularly for such a big star. Soon the public and Fox stock holders, along with the Fox executives in Manhattan, clogged the phone lines of the offices on Pico Boulevard in Hollywood. The message from the offices in Manhattan: resolve this unfortunate misunderstanding as quickly as possible. Zanuck claimed she only wanted a large salary increase and that she was behaving as Jean Harlow had in 1934. Of course I'd like a salary adjustment, Marilyn responded, but right now I'm more interested in getting a good script so I can make a good picture (Spoto 258-259). She was adamant: she would not portray a singing teacher wearing pink tights.
Fox and Darryl Zanuck wanted to keep Marilyn in the roles, keep her in the types of movies for which she was, without a doubt, ideally suited, movies that would earn the studio millions and millions. That's certainly understandable from a business perspective. What is not understandable is why Fox and Darryl refused to cooperate with a woman that had earned them millions and millions already: as a happy star, wouldn't she also earn them millions and millions, regardless of the parts she played? Her fans supported her. Milton Greene supported her and so did Joe DiMaggio. Both men, perhaps for differing reasons and with differing goals, hoped to create positive changes in Marilyn's life and her career. In several respects, both men achieved their goals, just not permanently. Her fans just wanted to see Marilyn on-screen.
On January the 14th, after almost two years of scrutiny by the press and the public, America's most famous couple became America's most famous newlyweds at City Hall in San Francisco. In February, they flew to Japan for a honeymoon; but during their trip to Tokyo, Marilyn accepted an invitation extended by General John E. Hull to entertain the troops stationed in Korea. Remembered by Marilyn as one of the highlights of her career and life, her decision did not please Joe.
Marilyn performed ten shows in four days before thousands of soldiers, visited the sick and wounded, posed for hundreds of photographs and signed hundreds of autographs. Albert Guastafeste, a pianist with the band that accompanied her, could not believe her modesty and made this revealing observation: She was Marilyn Monroe, but she didn't seem to realize it! If I made a mistake, she said she was sorry. When she made a mistake, she apologized (Spoto 265). As much as she enjoyed herself, she finally had to return to Joe who listened without any interest at all to her excited stories of the soldier's reactions to her performances. Had she made a mistake, wedding a man who cared very little, if at all, about her career?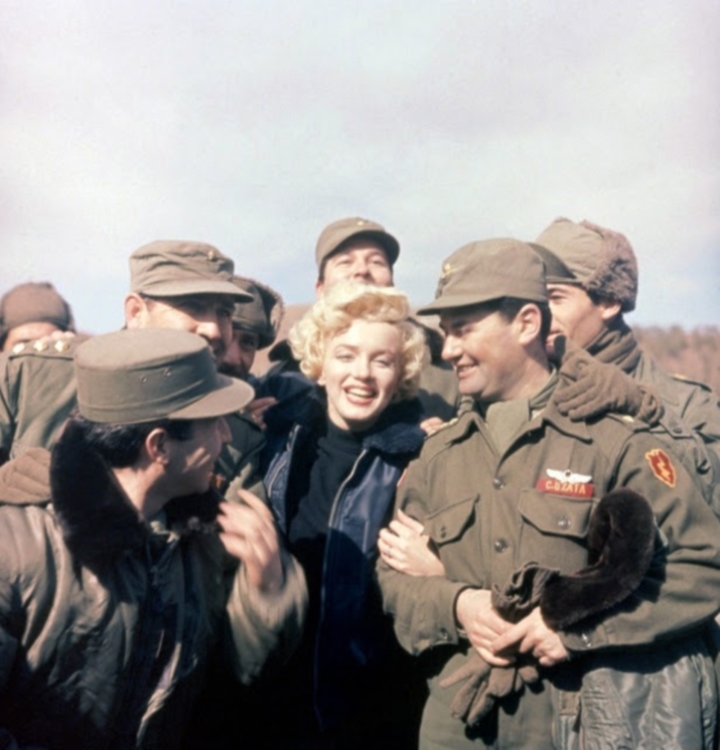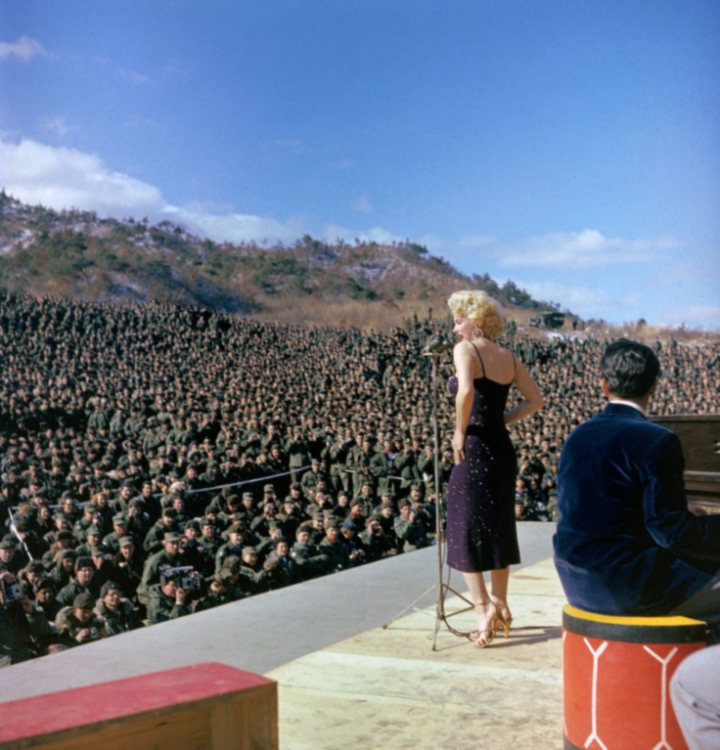 She returned to Hollywood, where in late April, Marilyn watched herself portray, in CinemaScope and glorious Technicolor, Kay Weston in the River of No Return. In spite of the relatively positive reviews that she and the movie received, Marilyn was not happy with what she saw on-screen. According to her alleged confidant and close friend, Hollywood columnist, Sidney Skolsky, what she saw actually made her physically ill.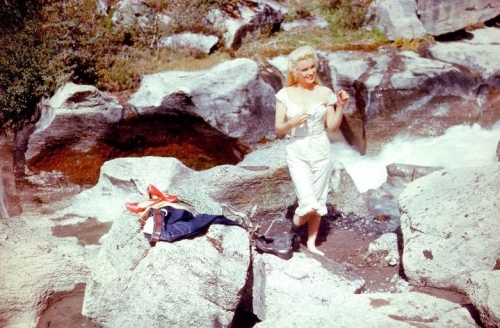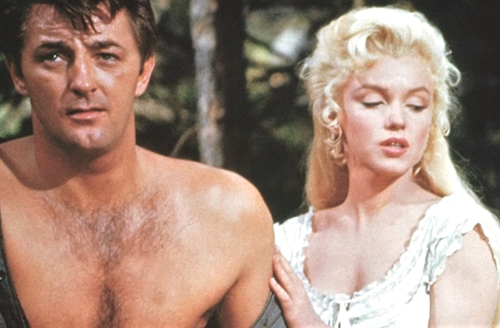 Fox and Zanuck finally dropped their demand that she portray a singing school teacher in pink tights with an agreement from Marilyn to take a supporting role in the Irving Berlin musical, There's No Business Like Show Business. Allegedly, Marilyn did not like nor want the role of Vicky Parker, a hat-check girl with dreams of a career in show business, a role quickly devised so Marilyn could add some sexuality to an otherwise mundane musical. She agreed to accept the assignment only after Fox promised her a $100K bonus and the lead role in the movie version of George Axelrod's Broadway play about sex and adultery. Marilyn completed her scenes as Vicky in late August and in September, she immediately began work with Axelrod, Billy Wilder and Tom Ewell on The Seven Year Itch, the final movie in The Dumb Blonde Trilogy and also the catalyst that precipitated the end of her already troubled union with Joe DiMaggio.
At eight fifteen on the morning of September the 9th, Marilyn's flight arrived in New York City. After exiting the airplane, she posed for photographers, spoke with reporters and waved at the many fans who greeted her. Finally, the police created a path through the crowd and she darted into a limo which transported her to several press conferences, a luncheon and finally to her hotel in Manhattan. Across the five boroughs, she appeared on the front pages of newspapers and magazines, was featured in front page stories and articles and was the topic of radio programs. The purpose of shooting in Manhattan was to create publicity, and the ploy succeeded. On September the 13th, fans arrived to watch the first of two exterior scenes filmed at 164 E. 61st Street; but the excitement Marilyn created on that day was mild compared to the excitement she created during the early morning hours on September the 15th.
An audience of several thousand onlookers whistled and cheered as Marilyn, wearing the now iconic white halter dress with the pleated skirt, stood over a sub-way vent shaft and grate cast into the sidewalk bordering Lexington Avenue in Manhattan. At 1:00 AM, a technician below the grating energized a large fan thereby directing a powerful gust of wind under Marilyn's pleated skirt, sending it over her head, exposing her white panties. Wilder ordered take after take after take as the crowd, mostly men, roared their approval and begged for more more more. The conservative and sedate, deeply jealous DiMaggio was in the crowd, and the spectacle of his wife's exhibitionism disgusted and angered him. He left before filming ended, but he met Marilyn at their hotel later. He was so incensed that he lost control of his temper and his hands. He became physically abusive and struck Marilyn, apparently not his first incidence of spousal abuse, according to persons close to her.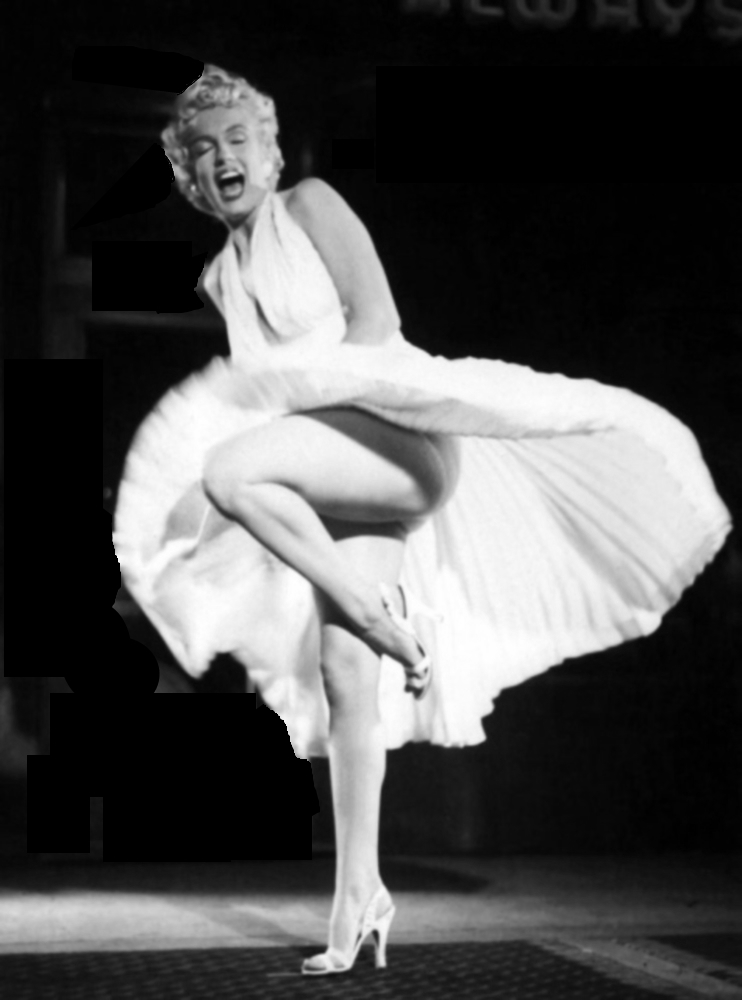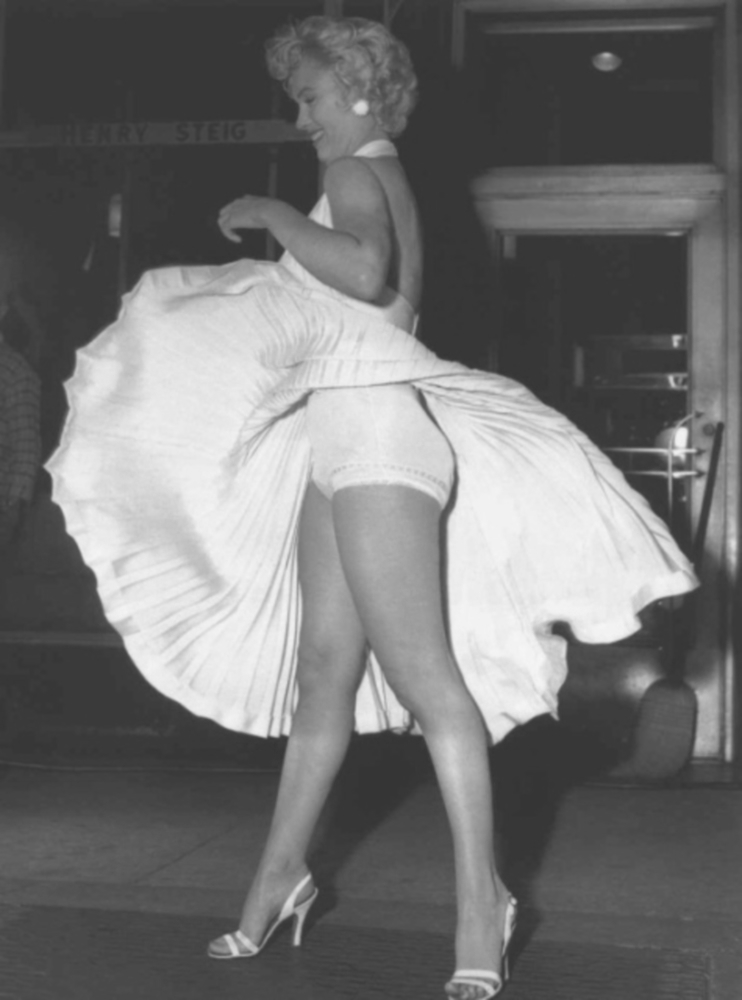 With her major scenes completed on November the 4th, Marilyn set in motion not only her divorce from Joe DiMaggio; but along with her friend and photographer Milton Greene, the legal process required to form her own production company. Marilyn wanted more control over her career. In her view, both Fox and Darryl Zanuck, treated her with an unacceptable and cavalier disregard. She desperately wanted to end their rigid type-casting. Yet another dumb blonde role was assigned to her, How To Be Very Very Popular, a role that symbolized everything she despised about her casting and everything she wanted to change. Ever cognizant of her image, she feared the public would eventually tire of her dumb blonde act.
Marilyn donned a black wig and sunglasses and assumed one of her many humorous monikers. Zelda Zonk boarded a flight in Los Angeles and flew to Manhattan where a new world, an exciting new life and hopefully a new, a better Marilyn Monroe, awaited. She was determined to become a serious actress; she was determined to be taken seriously. In relative peace and anonymity, she celebrated the Christmas Holidays and the arrival of 1955 with her new best friends and housemates, Amy and Milton Greene. No one in the offices at Fox and no one in that Hollywood hierarchy knew where she was hiding. When she did not report to the Fox lots as ordered to begin filming How To Be Very Very Popular, Fox suspended her.
When the photographs taken of Marilyn that now legendary, early morning, standing astride the subway grate, smiling, performing for her fans, glowing in the lights and the explosion of flash bulbs as only she could, when those photographs reached the newspapers and then the public around the globe, Marilyn Monroe became a household name. One of the thousands of images captured that morning, dubbed The Flower, blossomed into The Shot Seen Round The World. The illegitimate infant born in a charity ward to a troubled mother, the little girl who grew up poor and fatherless, virtually motherless in foster care and an orphanage, the child who once had such tiny little feet, married at sixteen by arrangement, had grown into a statuesque and beautiful young woman. In spite of her deep-seated insecurity and self-doubt, in spite of feeling inadequate, by the sheer force of her ambition and the dint of her will, the poor waif had become one of the most recognized women in the world. Norma Jeane's dream, and to a large extent, Grace McKee's dream had come true. Not only was Norma a famous movie star, her fame was known and her star shone worldwide. She was the worldwide symbol of the feminine ideal.