Rose Loomis Launches Marilyn Into the Starfield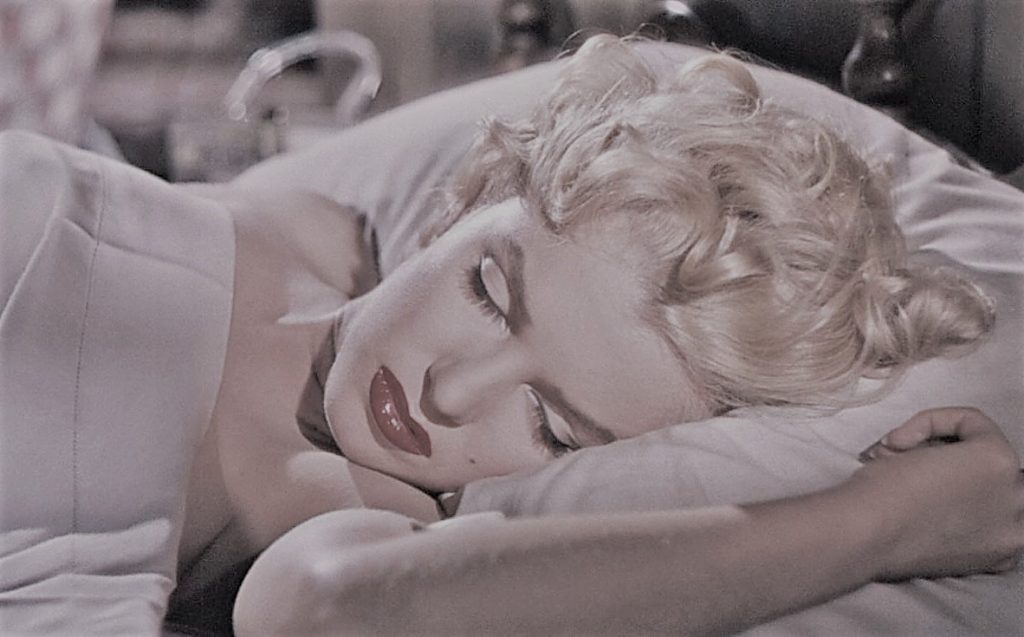 On the 21st of January in New York City, Marilyn appeared on-screen in the Technicolor noir, Niagara. As an adulterous wife who schemes with her paramour to murder her insanely jealous and older husband, her garish, slightly sluttish and titillating performance transformed her into the symbol of red hot, seething sexuality. Marilyn's portrayal of Rose Loomis, combined with her nude calendar poses, undeniable visual proof that Marilyn was, in fact, beautiful head to toe, Niagara delivered her unto stardom in America. Norma Jeane's dream, one she shared with her Aunt Grace, was finally coming true.
Joe DiMaggio was a very conservative man and even though he loved Marilyn, or maybe because he did, he objected to and did not like the way she often displayed her body in public by wearing skin tight dresses and gowns, sans under garments. With the dawn of 1953, she agreed to tone down her wardrobe provided he agreed to be more patient with her and Natasha. A real dislike was developing between Mr. 56 and Miss Lytess, who considered DiMaggio to be God's retribution on Marilyn (Spoto 236). Their agreement remained intact until Marilyn received the Photoplay award for Fastest Rising Star. On March the 9th she received her award wearing the skin-tight, gold dress that briefly appears in a Gentlemen Prefer Blondes scene as Lorelei is dancing with Piggy. By all accounts, the dress was so tight it appeared as if Marilyn had been melted and poured into it. Angered by Marilyn's wardrobe selection, Joe flew home to San Francisco while Marilyn was the star and center of attention at the awards ceremony. Apparently Joan Crawford, forgetting her well-known bawdy past, considered Marilyn's attire to be less than lady like and attacked the fastest rising star in the press. Ever the diplomat, Marilyn reacted to Joan's criticism by complementing her, expressing admiration for the aging actress and her role as a good mother. As it turned out, an ironic statement about Mommie Dearest.
On July the 31st in Hollywood, alongside Jane Russell, who was actually billed as the star of Gentlemen Prefer Blondes, the first movie in Marilyn's Dumb Blonde Trilogy, the dumb blonde portrayed Lorelei Lee, gorgeous showgirl and gold digger. She dominated every scene in which she appeared and was the actual star of the musical comedy. Her singing, dancing and her stunning beauty combined with her talents as an actress and a comedienne, enlarged and brightened her star. Due to the success of the musical comedy, both women inscribed their names and left the requisite imprints in wet cement at Grauman's Chinese Theater. Marilyn suggested that they should also leave imprints of their behinds and breasts. About the same time, Fox handed Marilyn her next role: she would portray Kay Weston, a saloon singer in the Otto Preminger directed western, River of No Return. Marilyn despised the part and the script and would later refer to the movie as my Z-grade western. She took the part primarily because of her contractual obligation but also because it afforded her an opportunity to appear alongside Robert Mitchum, a friend since her marriage to Jimmie Dougherty. Sadly, the woman who started Norma on the road to becoming an actress, becoming a star, the woman who arranged her marriage to Jimmie Dougherty and cosigned her first contract with 20th Century-Fox, died on the 28th of September.
At the time of Grace's death, Marilyn was filming River of No Return in Canada and once she received the news that her Aunt Grace was gone, Marilyn was devastated. Donald Spoto reported in his Marilyn biography that Hollywood's rapidly rising star decided not to attend Grace's memorial service and burial and then offered an explanation for Marilyn's absence, an absence not motivated by a fear that she might disrupt Grace's funeral with her presence and her fame. Spoto opined that Marilyn's absence was indicative of her withdrawal from Grace, a withdrawal motivated in part by Grace's retreat into a haze of alcohol and drug dependence—a condition that so frightened Marilyn on two visits in 1949 and 1951 that she avoided meetings thereafter. But then Spoto also perceived that Marilyn's absence on October the 1st symbolized Marilyn's withdrawal from the woman who, by arranging an early marriage to James Dougherty, had, for all intents and purposes, abandoned Norma Jeane. According to Spoto:
In effectively cutting off relations with Grace, Marilyn avoided being rejected again by the one who had once before abandoned her by marrying her off and departing to West Virginia … Marilyn's distance from Grace was the ironic fulfillment of the distance Marilyn had once felt from Gladys—a void Grace had both filled and exploited. Making Gladys's daughter her own, she had set in motion … her own eventual rejection

a rejection motivated in part by Grace's participation in Norma Jeane's divorce from James Dougherty. Spoto finally ascribed Grace's suicide to her own meaningless life: Married for years to a shiftless, womanizing tippler and suffering both illness and addiction, Grace could no longer endure the complete loss of meaning in her own life as she watched Marilyn's thrive (Spoto 251-252).
Stacy Eubank, Gary Vittaco-Robles, Randy Taraborrelli and Berniece Miracle contradict Donald Spoto's account and his assessment of the relationship between Marilyn and Grace at the time of Grace's death. According to Eubank, Vitacco-Robles and Taraborrelli, Marilyn attended Grace's funeral. In Randy's account, during her battle with uterine cancer, Grace lived with Marilyn while also helping Grace pay her medical expenses. According to Taraborrelli: Marilyn Monroe's accounting ledger for this time frame indicates two payments to 'Mrs. G. Goddard' … made in May and June of 1953. The first is for $851.04, and the second is for $300.00. Both carry the notation 'medical' … These checks were obviously drawn by Marilyn to help pay for Grace's medical crisis at this time (Taraborrelli 541).
According to Vitacco-Robles' tome, Marilyn also paid Grace's funeral expenses, gave Doc some bedroom furniture and offered to help him in any way she possibly could (Vittaco-Robles v1:363). According to Eubank, Bebe Goddard reported that Marilyn attended Grace's funeral and a reception afterwards; but Stacy offered the following commentary about Marilyn's relationship with Grace:
Grace was one of Norma Jeane's greatest supporters and her positive influence in the life of Marilyn Monroe cannot be disputed. Yet … Grace was available to Norma Jeane only from a distance, shuffling her from home to home … a relationship marked by inconsistent starts and stops, and always under the shadowy influence of Gladys … After Grace's death, Marilyn seemed to drift away from her old roots and the people she once knew. It was as if Grace was the rope that moored her boat to the pier. Without Grace, she drifted ever further out to sea, forever widening the chasm between Norma Jeane and Marilyn Monroe … Maybe Grace's suicide affected her more than anyone knew, but what can be known is the gulf that she created between her childhood and the present, a span that she would not allow any to cross (Eubank 419).
In her memoir, Berniece Miracle succinctly described Marilyn's feelings about Grace: Marilyn and I discussed many times how sad we were about the circumstances of Grace's death. It's disturbing to see stories say that Marilyn had dropped Grace Goddard because she felt her marriage to Jim was one of convenience engineered by Grace. Marilyn never dropped Grace. Grace was always Marilyn's friend, and Marilyn loved her until she died (Miracle 120). Berniece reported the following conversation with Marilyn:
Marilyn: I feel an anchor is gone.
Berniece: I have no doubt. I'm in shock.
Marilyn: Life is just one loss after another. What will I do without her (Grace)?
Berniece: Is Joe of some comfort?
Marilyn: I guess he's more important than ever to me now (Miracle 119).
Suffer me to digress once again and offer an opinion. The preceding passages, lifted from the volumes written by Donald Spoto and Stacy Eubank represent in miniature, but also to a large extent, a common error in many of the biographies written about Marilyn Monroe: the invalid application of supposition and assumption. Donald supposes that Grace's life had lost all meaning because of Marilyn's success; and then he assumes Grace committed suicide because of those two factors. This assessment appears to fly in the face of history. Considering that Grace dreamed of Norma Jeane becoming a star, why would the realization of that dream lead her to suicide? Honestly, I don't believe it would have. I can think of several other reasons why Grace McKee might have killed herself; and none involve Marilyn.
Stacy Eubank supposes a perpetually widening chasm between Norma Jeane and Marilyn Monroe, her childhood and her present, and then assumes that Grace's death by suicide set Marilyn adrift in this endless gulf. The biographer suggests that Marilyn knew Grace's death was a suicide but Marilyn knew nothing about Grace's actual cause of death: Doc Goddard allowed both Marilyn and Berniece to believe that Grace died from uterine cancer. Berniece did not learn until 1979, the year Berniece received a copy of Grace's formal death certificate after requesting one from California, that Grace had died, at the age of fifty-nine, from a self-administered overdose of phenobarbital (Miracle 120).
Marilyn desperately wanted to reconcile her past with her present; so she submitted to psychoanalysis when she probably should have avoided it. Truthfully, her care at the hands of the psychiatric profession, or lack thereof may be a more accurate assessment, is arguably what widened any chasm that may have existed in and between Norma Jeane and Marilyn Monroe, not Grace's suicide. According to Berniece, Marilyn visited the graves of both Ana Lower and Grace McKee frequently during the years following Grace's burial. Apparently Marilyn found solitude and comfort in the quiet cemetery, visiting with the two most important women in her life.
Renewing a brief friendship that began in late 1949, Marilyn reunited with photographer Milton Greene in October of 1953. Already a legend in photographic circles and known as Color Photography's Wonder Boy, Milton's photographs of Marilyn and his idea of creating her own production company in order to gain more control over her career, intrigued her and suggested she might want to consider a new course for America's new sex symbol, America's new Star. She would eventually take that course in late 1954, hoping to find a new Marilyn Monroe. But important issues of the present and her career as the Blonde Bombshell demanded her attention.
In September, Marilyn appeared on television's small screen, performing in a skit as herself on The Jack Benny Show and on the 4th of November, on the CinemaScope big screen, Marilyn appeared alongside Betty Grable and Lauren Bacall in the light comedy, How To Marry a Millionaire, the second movie in her Dumb Blonde Trilogy. Prior to the premiere, Marilyn attended a party pitched by the screenwriter Nunnally Johnson and his wife. Marilyn's costar, Lauren Bacall and her famous husband, that old guy from the African Queen, also attended. Excited and concerned over the movie's reception, she over drank slightly. Escorted by Bogie, who was also intoxicated and caught by a photographer gazing down the bodice of her gown, Marilyn dominated the celebrity arrivals. All eyes focused on her as she entered the theater. On the huge CinemaScope screen, Marilyn once again dominated every scene in which she appeared. Her humorous, slightly slapstick portrayal of the vain and virtually blind Pola Debevoise endeared her even more to the public and delivered her to the pinnacle of stardom in America. The movie was a major financial success. As a result, she also became Fox's most reliable box office draw, their biggest money maker and their biggest star. Oddly and ironically, despite the status that Marilyn achieved during 1953, she was never treated like she deserved, neither by Hollywood generally nor Fox Studios specifically. She was certainly never paid commensurate with her status or actual box office value.
December found Marilyn on the cover of Hugh Hefner's recently founded magazine for hip heterosexual men, Playboy. Nude in profile and stretched alluringly across a pallet of crushed red velvet, she was the magazine's initial centerfold, then known as the Sweetheart of the Month. Despite her ever increasing fame and popularity, the end of 1953 found Marilyn embroiled with Fox over her assignment to appear in a trite musical comedy, The Girl in the Pink Tights. Marilyn refused, refused to portray a school teacher turned chanteuse. Her refusal marked the start of her revolt against Fox, mighty Darryl Zanuck and the oppressive studio system. Concealed in the rear of an airplane's coach section, Marilyn escaped to San Francisco. Over the Christmas holidays, she lived with her soon to be husband, and perhaps, at that time, the most important man in her life, Joe DiMaggio; but her rise to worldwide stardom and fame awaited.