1958 Thru 1960
Some Like It Hot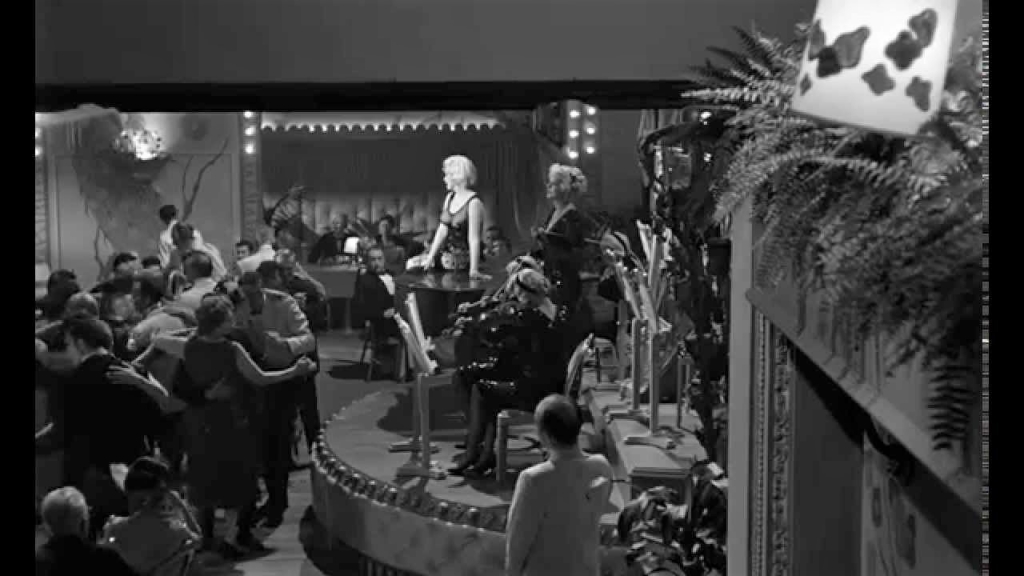 During Marilyn's absence from Hollywood, two years in length as April of 1958 approached, the studio heads, the operators of the Magic City, attempted to create pale replacements for a woman who could not be replaced, imitations of a woman who could not be imitated. Jayne Mansfield, Mamie Van Doren, Diana Dors and Sheree North, just to mention a few, were all trotted out by various studios, including Fox, as the new and improved Marilyn Monroe.
Bored with her domestic existence, her professional inactivity and fearing that she might become nothing but a memory in Hollywood, forgotten by her fans, Marilyn began to consider a few movie offers. Around this time she received a two-page movie synopsis from Billy Wilder describing a new movie that he was in the process of writing with I.A.L Diamond. Billy expressed delight when Marilyn expressed an interest even though he once commented that he would never work with her again. In spite of some misgivings about the role of Sugar Kane, Marilyn accepted the part primarily due to necessity: the Millers needed the money. Arthur's entanglement with the House Un-American Activities Committee prior to the Miller's nuptials, had become very expensive and coupled with the fact that he was not earning any money, Marilyn needed to pay Arthur's legal debts for him. So in early May, she signed a contract to appear in Some Like It Hot.
At the beginning of July, she flew to Los Angeles to start filming and then to a fake Florida. Sadly, as if all the problems from London had been transported to the production of Some Like It Hot, what began as friendly sets soon turned into mean, ugly ones and, like her treatment in London at Pinewood, Marilyn received all the blame for the rancor and the production problems. As the end of filming approached, Marilyn learned that she was pregnant again, happy news in an otherwise grim, hostile situation. Principal photography mercifully ended on November the 4th and Marilyn returned to her country home, hoping to deliver the child she desperately wanted. In December, she miscarried. Over the subdued holidays, marking a dreary end to 1958, she rested and attempted to recover from the psychological and physical impact of her loss.
Like the previous year, 1959 began with professional possibilities for Marilyn as trouble brewed in her personal life. Her tenuous marriage to Arthur Miller, already unraveling due to distrust and disappointment engendered during their stay in England, began to unravel at an even faster pace. His reliance on Marilyn for financial support and other complicated factors, caused a considerable amount of friction and enmity between husband and wife. But, on March the 19th, all appeared well between a glowing, ebullient Marilyn and a bespectacled, diffident Arthur as they attended the world premiere of Some Like It Hot.
Uniformly praised by cinema critics, then and now, Marilyn's performance as Sugar Kane is generally recognized as her best. Golden Globe rewarded her as the Best Actress in a Comedy or Musical and her fans rewarded her by making the picture show a financial success, easing some of the Miller's financial pains. Continuing rancor with her director and her costars tempered what would otherwise have been a time for celebration. Billy Wilder threw a celebratory party for the cast and crew, to which Marilyn was not invited; and the animosity felt by Wilder, Jack Lemmon and Tony Curtis began appearing in the press as they revealed and openly discussed Marilyn's difficulties, her tardiness and other odd behavior. They considered her to be unprofessional. The telegrams that flew back and forth between Billy Wilder, Marilyn and Arthur are hilarious and equally sad. However, with the arrival of her next movie project, and the amazing success of Some Like It Hot, the hard feelings began to slowly diminish. Wealth has a tendency to heal certain wounds. As the end of 1959 and the holidays approached, Marilyn began to prepare for Let's Make Love and the arrival of her French costar, Yves Montand, and his wife, actress Simone Signoret.
Marilyn began 1960 with an announcement, upon the arrival of the man who would portray Jean-Marc Clement opposite her Amanda Dell, that next to my husband and Marlon Brando, I think Yves Montand is the most attractive man I've ever met (Spoto 413). Soon, they began rehearsals supervised by Jack Cole, the movie's musical director, and George Cukor, the movie's director. Marilyn lodged her usual complaints about the vacuous nature of the script but she also worked as hard as ever to ensure a successful movie. While the rancor was not quite as serious as she experienced on her previous movie, Let's Make Love experienced its share of difficulties and feuds. At a crucial point during production, the Screen Actors Guild joined the Writer's Guild in a strike against the studios that closed every production in Hollywood. No screenwriter would violate the strike to work on Fox's script save one: Arthur Miller.
Secretly during the night, and for a large fee, Miller reworked the clichéd script, an act viewed by Marilyn as a violation of his lofty leftist ideals and a repudiation of his purported concern for the common man. The respect she once held for her husband, the principled man who bravely refused to cooperate with the House Un-American Activities Committee in 1956, quickly evaporated. The Miller's marriage, already on a collision course with a divorce court, received yet another blow in April when Arthur traveled to Ireland and Simone returned to Europe. Apparently, during the absence of their spouses Jean-Marc and Amanda fell into each other's arms and then into bed. Although their liaison lasted only two months: the affair ended in June as the filming of their appropriately named picture ended. Even so, her marriage to Arthur Miller was all but over.
A new and important relationship with the Psychiatrist to the Stars, Dr. Ralph Greenson, began in June on the recommendation of Dr. Kris, and she began seeing him frequently before she traveled to Arizona where the bitter final battles that often end a marriage awaited. Clark Gable, Monty Clift, Eli Wallach and Thelma Ritter performed their grim scenes for John Huston in the Arizona desert's hellish heat, a metaphor for the hellish bitterness between Marilyn and Arthur during the parched summer filming of The Misfits. Written as a short story by Arthur, then expanded into a screenplay in 1957, intended as a Valentine's gift for the wife he loved at that moment in time, The Misfits became, by 1960, a channel through which Arthur focused each of his harsh feelings at a woman he then found difficult to tolerate. Played out before the other cast members, the crew and photographers, what was supposed to be the ultimate movie for Marilyn Monroe became the public display of a personal hell. During filming, Marilyn was briefly hospitalized, the Miller's separated and only due to her iron will was she able to finish a movie that all but ridiculed her life and all that she had accomplished to that point.
The reason for Marilyn's hospitalization remains a topic of debate. It has long been reported that she either suffered a nervous breakdown or had to enter for detoxification. Both of these reasons were given by John Huston and the movie's producer, Frank Taylor. According to Evelyn Moriarty, Marilyn's friend and stand-in, Taylor gathered the production company together, announced Marilyn's breakdown, her hospitalization and the resultant production interruption. Evelyn added:
With that Arthur Miller got up and stormed out. He knew, as we all did, that this was a ruse. Of course she had troubles, we knew that, too. But Marilyn was being blamed for everything. All of her problems were exaggerated to cover up for Huston's gambling and the terrible waste of money on that production. It was so easy for her to be made the scapegoat (Spoto 444).
Donald Spoto contends, however, that most of the problems on the sets of The Misfits were actually caused by Huston and Miller. Constant rewrites and dialogue changes, almost nightly, kept Marilyn occupied many nights until the small hours learning her lines. Eventually both she and Clark Gable refused to accept changes to the script. But the most egregious problem was Huston's alcoholism and his gambling. He was often drunk or hung over and sometimes even slept in his director's chair during filming. And according to Mr. Spoto, Huston's huge losses in Reno, over $50K ($408K today), is what actually caused the halt in production (Spoto 438-441).
Mercifully, principle photography ended on the 5th of November but the misery was not yet over. On the 6th, Clark Gable suffered a severe heart attack and died ten days later. Marilyn blamed herself in private; but the press, and a few misguided fans, blamed her publicly. Marilyn idolized Clark Gable, the King of Hollywood, the man who looked like the man she believed was her father, the man who was her imaginary father when she lived in the California Orphan's Home. He was killed on her movie and her behavior was responsible, she believed. Marilyn fell into a deep depression and retreated to the one place where she could find some solace: the home of the Strasberg's. Saddened, alone and depressed, she watched the sun set on 1960, a gloomy year, in Manhattan.