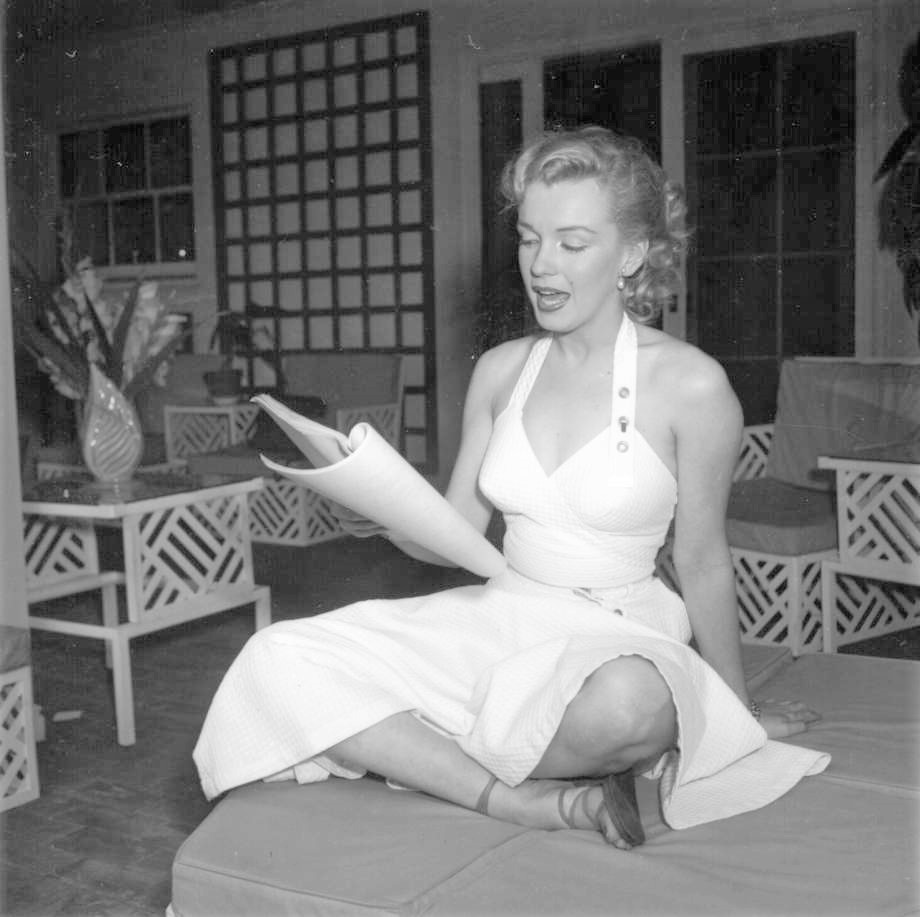 The mid-century year of 1950 was an important and pivotal year in Marilyn's personal and professional lives. Johnny made a reasoned pitch to MGM, hoping the studio would offer her a long-term contract. They declined. MGM already had a young blonde star, Lana Turner; besides, Miss Monroe was not that photogenic, a criticism Marilyn had heard once before. For a few days in early Spring, Marilyn occupied herself on the sets of Right Cross and The Fireball performing the bit parts those movies offered.
Marilyn's lessons with Natasha continued as did the counsel from her mentor, movie agent and lover. A conflict of cross purposes developed. While Natasha stressed Marilyn's need to develop correct posture and diction, proper acting techniques, the drama coach also stressed understanding circumstance and psychology, understanding a character's motivation. But Johnny advised Marilyn that appearances were more important in the movies than acting. All Marilyn needed was the right part and director, the right producer and cinematographer. The camera would do what was otherwise required: capture her beauty, her innocence and her powerful sexual allure. But the unphotogenic comments troubled Marilyn. Any person who ever said or thought that, Johnny counseled, would ultimately be proven wrong. Like Grace, Johnny was proven to be an accurate prognosticator.
In April, Johnny arranged for Marilyn to meet Joseph Mankiewicz, the award winning writer and director who was casting a small but significant role in a movie for which he also wrote the screenplay. He thought Marilyn was ideal for the role and recommended casting her to Darryl Zanuck, the movie's producer. Still disinterested in the career of a woman whom he also strongly disliked, Zanuck deferred to his director. Mankiewicz signed Marilyn to play the role of Miss Claudia Caswell in All About Eve, the second movie in her impression trilogy. Filming began in late April. Originally signed for just a week's work, Marilyn was on the sets of All About Eve for approximately thirty days.
Johnny wanted desperately to wed Marilyn so he proposed to her constantly. She steadfastly refused because she was not in love with him. In My Story, she confided that she wanted to help Johnny but could not: The person I wanted to help most in my life … remained someone for whom I could do almost nothing. He needed something I didn't have—love. And love is something you can't invent, no matter how much you want to. But Johnny offered his money as a bribe. 'I'm rich,' he said to me. 'I have almost a million dollars. If you marry me you'll inherit it when I die'. Joe Schenck tried to convince her that she should marry Johnny: Joe Schenck argued with me to do it. 'What have you got to lose?' he asked. 'Myself,' I said. 'I'm only going to marry for one reason—love' (Monroe 135-136).
During the spring and fall of 1950, Marilyn's ever growing fan base watched her materialize on-screen across America in six movies. Love Happy was re-released on March the 3rd and awarded a second premiere on April the 7th in New York City. In Denver, on April the 18th, she sang and danced alongside Dan Dailey when A Ticket to Tomahawk premiered. On the 23rd of May, her fans watched her portray the vivacious and beautiful Angela Phinlay. Marilyn could have watched herself become Angela had she attended the premiere of The Asphalt Jungle in Los Angeles; but she followed Johnny's advice and did not attend. On October the 6th she portrayed Dusky Ledoux, restaurant patron and pick-up target, in Right Cross, a black and white pugilism drama starring Dick Powell and June Allyson; and the on 7th, she was Polly, a young man's arm ornament in The Fireball, a black and white roller derby drama featuring Mickey Rooney and Pat O'Brien. In her final appearance of 1950, on the 13th, simultaneously in New York City and Paris, Marilyn portrayed Miss Caswell in All About Eve. She reprised the role of the alluring but naïve blonde in Los Angeles on the 9th of November when the film premiered in Hollywood. Whether Johnny so advised is unknown, but Marilyn did not attend the premiere.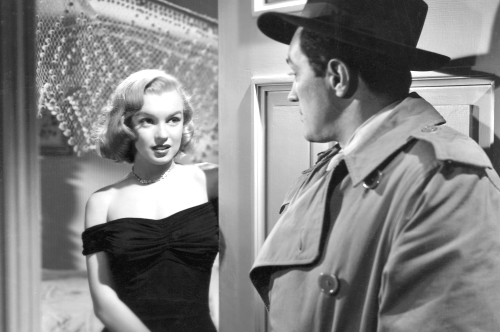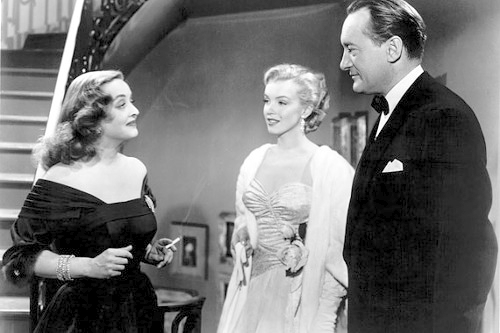 Marilyn's performances for John Huston and Joseph Mankiewicz attracted a considerable amount of attention, particularly her luminosity and overpowering screen presence. Louis Mayer and Lucille Ryman probably questioned their decision not to sign the ebullient blonde to at least a six-month contract because Zanuck, finally impressed by Marilyn's portrayal of Miss Caswell, ordered a real screen test for her. Unlike her initial screen test in 1946, this one actually involved speaking and acting. Appearing with Richard Conte as his girlfriend, Marilyn was her usual luminous self but obviously she could also act. In early December, Zanuck screened the test and he was so impressed with Marilyn's performance that he immediately ordered her signed to another six month contract, with the usual renewal options.
On Sunday, December the 10th, at a small ceremony, Marilyn signed her new contract and once again she became a contract player for Fox and Zanuck. He immediately assigned her to a cute black and white comedy, As Young As You Feel. While Zanuck had finally come to his senses and corrected his earlier mistake of terminating Marilyn, he had not yet learned his lesson.
Negotiating her return to Fox was the last piece of business Johnny settled for Marilyn. Watching her sign the contract was possibly one of the last times he was with her. She departed soon thereafter, along with Natasha, for Mexico and a Christmas shopping spree. Johnny encouraged her to go and financed the trip. Eight days after Marilyn's signing ceremony, while she was in Tijuana, Johnny suffered a fatal heart attack. Allegedly, his final words were about Marilyn. Instrumental in securing several of her roles, it is justifiable to contend that without the efforts and influence of Johnny Hyde, the world may never have received the exquisite gift of Marilyn Monroe; and it's unfortunate he did not live long enough to enjoy Marilyn's stardom and fame. A personal and professional loss for Marilyn, she never fully recovered from the death of her friend and professional mentor. In My Story, she wrote:
Johnny gave me more than his kindness and love. He was the first man I had ever known who understood me … My great friend was buried. I was without his importance to fight for me and without his love to guide me. I cried for nights at a time. I never regretted the million dollars I had turned down. But I never stopped regretting Johnny Hyde—the the kindest man in the world (Monroe 133-136).
Saddened and feeling alone, feeling once again like an abandoned child, Marilyn ended the year as the recipient of Fox's promising young actress award and a photographic feature in Life magazine. A risqué photograph bore the caption Busty Bernhardt along with the declaration that Marilyn was able to attract men by merely breathing. Arranged through Fox's publicity office prior to his death, Johnny intended the magazine feature and faux award to be a Christmas gift for Marilyn (Spoto 176). The declaration and the magazine feature were fundamentally illusory. Neither her studio nor Darryl Zanuck harbored plans for developing their blonde into a Busty Bernhardt. Their goals for Marilyn Monroe were considerably more narrow and less noble. Their plans revolved primarily around her alluring beauty, her powerful sexuality and her ability to attract men by merely breathing.
Marilyn's Screen Test with Richard Conte