1945 Thru 1946
A Career in Still Pictures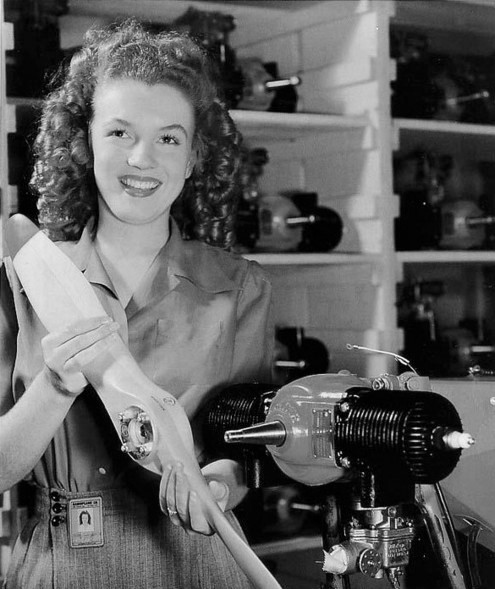 Army photographer, Lt David Conover, came into Norma Jeane's life early in 1945. Conover was a member of the army's First Motion Picture Unit. Future president Ronald Reagan, CO of the unit and friends with the owner of the factory, former actor Reginald Denny, dispatched Conover and several other photographers to Radioplane with orders to photograph examples of Rosie the Riveter as she worked in factories for the war effort. Conover and his fellow photographers, a few of which carried movie cameras, noticed a stunning bru-nette. They wanted to know why and where she had been hiding during the previous years of all their lives. A few of the photographers even tried to arrange dates with her but she declined their advances.
With permission from her superiors, they relocated Norma outside for filming and still photographs. Outside, the requests for dates continued. Conover later remarked about his subject that day: Her response to the camera was amazing. There was a luminous quality to her face, a fragility combined with astonishing vibrancy (Vitacco-Robles v1:96). A fortuitous event no doubt but a coincidental one nonetheless, the photographs taken by Conover that day placed Norma on the path to becoming the world's most photographed woman. Years later, Billy Wilder re-marked: The day a photographer took a picture of her, she was a genius (Eubank 63). Apparently the movies taken of Norma Jeane that day have been lost to history.
Conover, who saw Norma's potential as a model almost immediately, continued to photograph her throughout the spring and early summer. Granted a two week furlough in July, he traveled on an extended shoot with her through the Mohave Desert, to Mount Whitney and then to Death Valley. Not long thereafter, he was transferred to another unit; but before departing, he delivered some photographs of her to his close friend and fellow photo-grapher, Potter Hueth. Hueth, who also operated a studio on Pico Boulevard in Hollywood, corroborated Cono-ver's opinion regarding Norma's potential; and her work with Hueth led to sittings with photographer William Carroll and ultimately to a meeting with Emmeline Snively, the owner of the Blue Book Modeling Agency. Soon Norma Jeane was attending modeling school at night.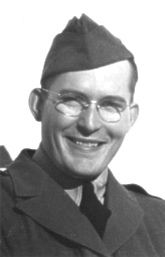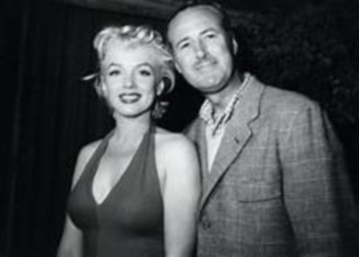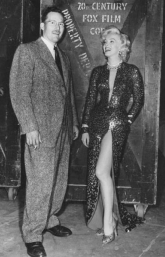 In August, the doctors at Agnew State Asylum decided, due to the efforts of Aunt Dora Graham, that Gladys was no longer a danger to herself or others. After Aunt Dora agreed to domicile Gladys for one year in Portland, the asylum released her.
Norma Jeane's fledgling career as a model was not well received by her in-laws or her husband. He sensed that he had been replaced by her career as the focus and the center of her life and Ethel disapproved of the large amount of time she spent in the company of male photographers. Jimmie rightly sensed that their marriage was foundering, but its dissolution was not immediate. Norma continued to live with the Dougherty family; but her unilateral decision to quit Radioplane in order to concentrate on her modeling career incurred the wrath of both her husband and her mother-in-law. Ethel's incessant disapproval finally convinced Norma that she had but one choice: she had to leave the Dougherty household. So she returned to Nebraska Street and Aunt Ana's duplex. During the ensuing few months, the life of the stunning brunette was a tempest of modeling assignments. That fall, Andre de Dienes, a relocated New York fashion photographer who also specialized in photographing nudes, contacted Blue Book in search of a pretty model. Miss Snively recommended Norma. Struck by her youthful innocence and naiveté, Andre dismissed his plans to pose Norma nude.
On the 20th of November he posed her completely clothed in the middle of Highway 101, north of Hollywood. On the 26th, he posed her wearing jeans and a tied shirt with an old barn backdrop; and with Norma wearing a pinafore, he posed her with a lamb. In spite of her relative inexperience, Andre realized the potential of the curly-haired but glowing brunette. He was so impressed with her that he contacted Miss Snively again and requested Norma for an extended location shoot. Initially she refused but eventually relented: she needed the modeling fee. Norma forced Andre to meet Aunt Ana, undergo her scrutiny and her approval. With Aunt Ana's approval obtain-ed, they hit the road. During this northern trip, Norma requested a detour to Portland, so she could visit Gladys. Norma's reunion with her mother, Andre later recalled, was not a happy or pleasant one.
Jimmie received a fourteen day furlough from sea duty in December of 1945 and arrived in Glendale for a romantic and amorous motel reunion with his wife; they ventured out only one evening for dinner at the Ambassador Hotel. Despite this romantic interlude, Jimmie expressed his stern disapproval of her new career. Also, he was not enthusiastic at all about the photographs taken by Andre de Dienes. Even so, Jimmie accepted and used the money Norma earned traveling with and posing for the photographer: Jimmie's car needed some repairs.
With a new engine in his old Ford coupe, thinking another visit with her mother might be good for Norma Jeane and might give him time to discuss their future together, they drove to Oregon for a holiday visit with Gladys. Only marginally better than the visit involving Andre, as Norma's visit with her mother came to an end, Gladys made a surprising request: to return to Southern California and live with her daughter. Norma quickly changed the sub-ject. During their drive back home, Jimmie issued an ill-advised ultimatum. He disliked her modeling; he refused to support it. Norma Jeane was thereby forced to choose between her husband and her fledgling career. The inevitable end of the marriage might have happened sooner but for Jimmie's return to active sea duty in January of 1946.
Suffer me to briefly digress at this point and proffer an understatement: there is a considerable amount of uncertainty among historians, biographers and memoir writers regarding the events surrounding Norma Jeane's life as 1945 came to a close. Likewise, this uncertainty extends backwards to 1926 and then forward until it touches mid-1950 when Marilyn's star began to ascend.
Norma's involvement with Andre de Dienes and his impact on her divorce from Jimmie, her trip (or trips) to visit Gladys in Oregon, exactly where Gladys was living at the time, Gladys' mental state then and the state of the Dougherty's stressed marriage are like a rubric's cube. An entangled skein, it is virtually impossible to keep all the various dates and accounts straight. I won't attempt to unravel each one here. I included a distillation of Gary Vitacco-Robles' account in the preceding paragraph. Gary's history is the only one that includes two trips to Oregon, one with Andre and one with Jimmie.
The memoirs written by Jimmie and Bernice include similar events but mention only one trip north. Jimmie's account includes a telephone call from his crying wife on Christmas Day, confessing that she wanted to come home because most all of Andre's camera equipment was stolen and it was all my fault because I left his car unlocked. I'm responsible (Dougherty 119). Berniece references Jimmie's account; but on more than a few other points, their accounts differ radically from each other. Their accounts also differ from the accounts offered by biographers Donald Spoto, Stacy Eubank, Gary Vitacco-Robles and J. Randy Taraborrelli.
With the exception of Stacy Eubank, biographers report that Andre paid his subject a $200 fee for the three week winter modeling excursion; however, according to Stacy, Andre paid Norma $300 by check on December the 20th when they returned to Los Angeles. If they were in Los Angeles on the 20th of December, was Norma Jeane's Christmas Day telephone call, as reported by James Dougherty, a ruse? If Norma Jeane simply wanted to spend more time with Andre, why even return to Southern California on the 20th? Just stay together on the road. In his memoir about their relationship, Andre claimed that he finally seduced Norma, despite many unsuccessful attempts, after her sad, unhappy reunion with Gladys. His account has been accepted and repeated by several biographers. Stacy Eubank included a twist in her volume: Andre and Norma parted ways only because he had to travel to New York, but she promised to marry him upon his return to Southern California; however, by the time Andre returned to the West Coast, Norma had divorced Jimmie, and she was well into her movie career: she had no time for a husband.
It must be noted that David Conover, and many of the photographers who were professionally involved with Norma during 1945 and until mid-1946, claimed that they sexually conquered her, even though a few admitted that doing so was not an easy accomplishment. According to William Burnside, also an I-had-sex-with-MM-claimant, a kiss took weeks to achieve. Burnside also recalled that she loved the camera first because posing for one soothed her. Then she loved the man behind the camera. She did not like to be touched too soon, Burnside later stated. One could not even think of sexual conquest by force. An amazing comment, considering its many implications (Spoto 104).
Still, virtually every person who claimed a sexual conquest of the young Marilyn Monroe, the movie stars, various common men and women, photographers and others, did so only after her tragic, untimely death and usually when they were panhandling a photographic book about Marilyn, a lurid memoir or some mostly fictional bio-graphical account of her life, their love affair or similar book. In his Marilyn biography, J. Randy Taraborrelli noted that the stories and books written by various photographers and others claiming to have bedded the world's greatest sex symbol invariably unravel under scrutiny when it comes to detail and specificity. And those who knew Marilyn well express dismay at the allegations that she bartered sex with photographers in order to advance in the business. After all, it's not as if she wasn't beautiful enough to make it on her appearance alone … By the spring of 1946, she had appeared on more than thirty magazine covers (Taraborrelli 92).
Despite Jimmie's ultimatum, Norma moved ahead with her modeling career with the beginning of 1946. In March, she posed topless for painter Earl Moran, in a two-piece swim suit for Joseph Jasgur at Zuma Beach and then she posed for glamour photographer Bruno Bernard at his Bernard of Hollywood Studios on Sunset Boulevard. Norma Jeane quickly became Blue Book's most requested and popular model. Using the nom de guerre Jean Norman, Mrs. Dougherty materialized on the covers of The Family Circle, Glamorous Models, Swank, Peek, Person-al Romances and U.S. Camera. Miss Snively soon recognized Norma Jeane's potential, not only as a model, but as a movie star. She advised Norma to sign a contract with the National Concerts Artists Corporation. Harry Lipton became her agent. He believed she would be even more successful as an unattached model and attract more attention from the movie studios as a single woman, so he advised Norma Jeane to divorce Jimmie.
In order to eliminate the possibility of pregnancy, as if an unmarried women somehow lost her ability to get pregnant, Grace, who suggested and arranged Norma's marriage, now agreed with Harry Lipton: Norma should terminate her union with Jimmie. So toward that end, the aspiring movie star moved in with one of Grace's aunts, Minnie Willette, a sixty-nine-year-old widow who just happened to live in Las Vegas, home of the quickie divorce. In May, while on sea duty in the China Sea, Jimmie received his Dear John letter in the form of a declaration from her lawyer: Norma Jeane Dougherty wanted a divorce. By late June, Jimmie was back home, discussing options with his soon to be ex-mate. Jimmie wanted a wife and children; but Norma Jeane wanted stardom and fame.
East is east and west is west and never the twain shall meet.
Understandably, perhaps, Jimmie initially refused to sign the divorce papers; but, he accepted his fate. Soon, Mr. and Mrs. Jimmie Dougherty ceased to exist. Later in her life, Jimmie's former wife made the following succinct public statement about their union: I was married and divorced. It was a mistake and he has since remarried (Spoto 109).
After her visits with Gladys, Norma began to send her mother money. Gladys saved enough for bus fare and, leaving Dora's house before the prescribed full year had elapsed, traveled to Los Angeles in early June. At the time, Norma was living at the Hollywood Studio Club with a roommate. Gladys moved in with Ana who also assisted with a job search. A nearby department store finally agreed to hire Gladys.
Berniece, now living in Oak Ridge, Tennessee, could hardly wait to meet her mother, but Norma was slightly concerned, frightened that Gladys might disappoint Berniece. The image in your mind of our mother is much better than the reality of her, Norma apparently advised her sister. Maybe you should just leave it be (Taraborrelli 119). Despite Norma's advice and her greater experience with their often intractable mother, in August Berniece and her young daughter, Mons, flew to California for an extended visit. Gladys, her daughters and granddaughter were finally together. There were three generations of us, Berniece wrote in her memoir, Mamita, Norma Jeane and I, and Mona Rae … Aunt Ana even represented a fourth generation (Miracle 71).
Oddly enough, or perhaps predictably, accounts of the events surrounding Norma Jeane's entrance into the realm of fantasy and make-believe are as varied and convoluted as the accounts of her association with photo-graphers. Likewise, My Story is predictably mute on this significant time in Norma Jeane's life. The very essence of brevity, Marilyn wrote about her entrance into the world soon to be represented by her new name: This is the end of my story of Norma Jeane. Jim and I were divorced. And I moved into a room in Hollywood to live by myself. I was nineteen, and I wanted to find out who I was (Monroe 32).
Biographers Spoto, Taraborrelli and Vitacco-Robles, ascribe the 1946 date of Monday, July the 17th, when Ben Lyon, Casting Director, met Norma Jeane Dougherty in his office at 20th Century-Fox Film Corporation. James Glaeg, who wrote a brief book to memorialize the now legendary event, ascribed it to a Tuesday morning in July when Ben Lyon was surprised out of a daydream. He'd heard a rustle of movement in the room and looked up from his desk … at the door stood a stunning twenty-year-old blonde who seemed to have materialized out of nowhere (Glaeg 1). Years later Ben remembered his first meeting with Norma Jeane Dougherty that way.
Stacy Eubank ascribed Norma Jeane's first meeting with Ben to the 25th of July, a Tuesday, and included Harry Lipton as her escort. Maybe now, seventty-four years after the fact, the exact date and time of Norma's appearance in Ben Lyon's office are irrelevant, except as an historical detail. The important fact is this: the young woman, according to Ben Lyon, who walked through that door took my breath away (Eubank 88). Ben had performed with the first Platinum Blonde in Howard Hughes's production of Hell's Angels in 1930; and to his eyes, Norma was Jean Harlow all over again. He asked her to return for a screen test. You can tell with some faces, Ben recalled, the way the flesh sits on the bones, the planes and angles. Apparently a casting director just knows when they'll photograph well (Glaeg 4).
While other biographers maintain that Norma Jeane's initial screen test occurred on the 19th of July, Stacy Eubank maintains that it actually occurred on the 14th of August. Regardless of the date, upon arriving at the studio, Ben Lyon directed Norma to a make-up room where she met Allan "Whitey" Snyder. Much to Whitey's surprise and bemusement, she began to apply her own make-up from a case she had with her. She knew, he realized as he watched the deftness of her hand strokes, how to apply her make-up for still photography; but she did not know what Whitey knew and understood: make-up techniques capable of working wonders in still photography were apt to be totally wrong for pictures that moved. Particularly if those pictures moved in Techni-color (Glaeg 8). With her make-up finally applied, Whitey escorted Norma to a sound stage where Academy Award winning cinematographer Leon Shamroy awaited.
Shamroy wanted to know what the hell was on Norma Jeane's face, wanted to know if Whitey Snyder had created that mess. Norma confessed that she had applied her own make-up. Shamroy ordered Snyder to remove the mess and reapply the cosmetics correctly (Glaeg 13-14). With Norma back in the make-up chair, Whitey expertly fixed her mistakes, mistakes she would never forget or repeat. Back on the sound stage, Norma became a jumble of nerves as the time for her test approached; but fortunately, her test would be a silent one. Through his view finder, Leon watched Ben Lyon pace Norma through the scene: the cinematographer was not impressed. The poor girl was incredibly clumsy; and if Lyon thought this new inexperienced blonde was somehow going to sup-plant Betty Grable, then he thought wrong. Finally, test time arrived. Ben said: All I want you to do is to come in that door and then do what I tell you. I just want you to project yourself the very same way you've been doing in your still pictures (Glaeg 19).
Norma disappeared behind a demising wall. Lights! Action! After stepping into the room, she paused. According to Glaeg, her entire demeanor changed before Shamroy's surprised eyes. She became graceful and unhurried, moving forward with an unfolding motion of her entire body that was like the graceful step of a sleek young gazelle. Her radiant and shattering smile combined with her poise, transformed the nervous blonde into a young woman every bit as stunning as Ben Lyon had promised. Later in the day, while watching the newly processed film on the flickering screen of the Moviola, he got a cold chill … she had a kind of fantastic beauty like Gloria Swanson. Like one of those lush stars of the silent era (Glaeg 19-24). An effusive Shamroy would expand his comments years later:
When I first watched her, I thought: This girl will be another Harlow! Her natural beauty plus her inferiority complex gave her a look of mystery … every frame of the test radiated sex. She didn't need a sound track: she was creating effects visually. She was showing us she could sell emotions in pictures (Spoto 111).
Norma introduced Ben Lyon to her sister during Berniece's visit to Los Angeles that August. Ben had already informed Norma that the studio wanted her to assume a screen name. According to Berniece's memoir, she was involved in a meeting with Ben and Norma during which they discussed her new name: Mr. Lyon chatted about names, telling me he was aware that Norma Jeane already had two names taken from the screen since her mother had obviously named her after Norma Talmadge and Jean Harlow (Miracle 79). Even to this day, some assume and report that Gladys' second daughter was named in recognition of two movie stars whose careers began during the era of silent movies; and Lyon's assumption that Norma Jeane's namesakes were those two movie stars no doubt seemed logical at the time and began that myth. However, Jean Harlow, born Harlean Harlow Carpenter, was not a movie star in 1926 when Norma was born and would not become one until 1929 when she adopted the name Jean Harlow. Even Berniece did not know in 1946 that her sister was named in memory of the child Gladys had nannied and to whom she had become attached during her stay in Kentucky, Norma Jeane Cohen (Miracle 236). Gladys did not reveal the origin of Norma's birth name until 1962.
According to James Glaeg, the process of renaming Norma Jeane was not as easy or as cut and dried as is often written about or depicted. Ben suggested Marilyn because he was quite fond of and had once been engaged to the actress Marilyn Miller. Norma Jeane suggested Monroe because that was her mother's maiden name. Appar-ently, after a considerable amount of discussion, Ben and Norma settled on Marilyn Monroe. In compliance with Norma Jeane's request, Lyon arranged a screening of her test for Berniece. From Berniece's memoir:
I felt like an executive to be treated to a private showing of Marilyn's screen test. She really went out on a limb to arrange that for me. But she enjoyed watching it as much as I did! She never took her eyes off the screen, and she kept up a running commentary on each movement she made. The screen test stayed in my mind for days. It seemed to me that Marilyn had taken common everyday actions and movements and made them exciting with her personality. And the color photography in the test was beautiful — the colors decorating the movie set they used for a background, but especially the colors of Marilyn's face and skin (80-81).
Darryl Zanuck, head of 20th Century-Fox Film Corporation, had to approve any contract offered to Norma Jeane Mortenson Dougherty; and although he was not as impressed with her screen test as Leon Shamroy or Ben Lyon, he deferred to them and ordered a standard contract for her. The future Marilyn Monroe, soon to be a Hollywood Icon and arguably the most famous woman on Earth, signed her first contract with Fox on the 26th of August, in 1946, for the guaranteed salary of $75 per week. She affixed each of her names to the signatory page. Since Nor-ma Jeane was still technically a minor in California, just a few weeks past her twentieth birthday, Grace McKee also signed the agreement.
As each woman affixed their names to that document, one can speculate that each must have experienced a flood of emotions. In Grace's case, there must have been a certain sadness combined with joy, realizing as she must have that her importance in and influence on Norma Jeane's life would forever be diminished, possibly even eliminated. Yet, the child she loved like her own now had a real opportunity to fulfill Grace's dream: the creation of a new Jean Harlow. Considering the mutable nature of her life up to that moment, Norma Jeane must have re-cognized the equally mutable, even capricious nature of the life she was choosing. Even so, she did not hesitate nor did she falter. Hollywood, the nation, even the world, awaited Norma Jeane's metamorphosis.