1956 Thru 1957
Shrewd Businesswoman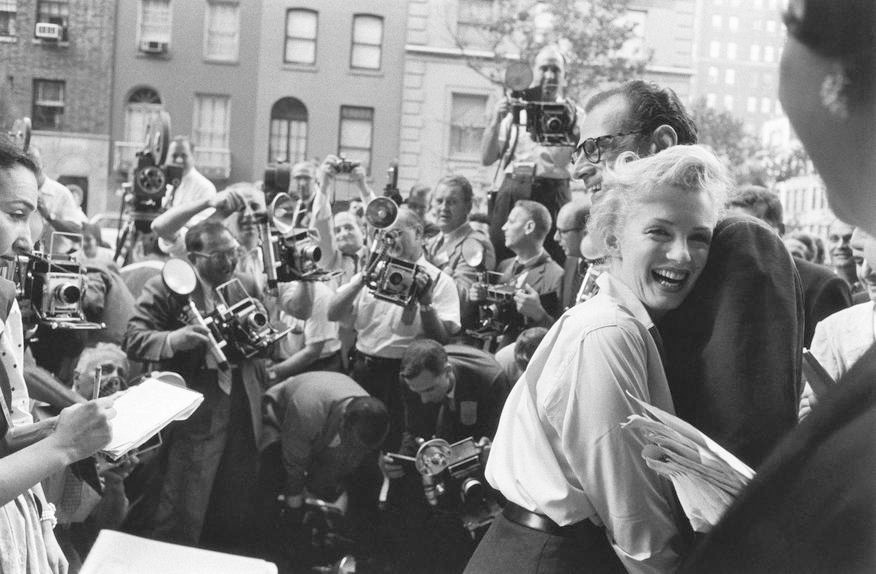 Based on her new contract with 20th Century-Fox, TIME christened Marilyn a shrewd businesswoman, an auspicious beginning to 1956. On Thursday, the 9th of January, she appeared with Sir Laurence Olivier and playwright Terrence Rattigan at a press conference, attended by approximately one-hundred and fifty reporters, to answer questions about her impending cinematic adventure to transform The Sleeping Prince, Mr. Rattigan's drawing room comedy, into a movie eventually renamed The Prince and the Showgirl. She dutifully answered the reporter's inane questions. Then one of the spaghetti straps supporting the bodice of Marilyn's dress broke and by all accounts, after a momentary silence, the burst of sound, the burst of light created by the exploding flash bulbs was nearly deafening and blinding. Without a hint of cunning, she prevented the bodice from falling and asked for the loan of a safety pin. Olivier asked if he should shield her with his jacket and then realized that not one reporter, at that moment, cared what he said. Thrice the strap broke and had to be repaired before the press conference ended. Marilyn's photograph appeared on the covers of pulp all over Manhattan the following day. The media ignored both Sir Laurence and Terrence.
TIME only needed to remove the limiting modifier from their characterization of Marilyn to correct their error. She was a shrewd woman: her wardrobe malfunction had been engineered for maximum effect. John Moore, who designed the dress recalled: The strap breaking was deliberately, brilliantly pre-arranged and carefully maneuvered in advance while she was dressing. Photographer Eve Arnold confirmed: Before we went downstairs, she said to me, 'Just wait and see what's going to happen' (Spoto 343). For the remainder of January and through the beginning of February, Marilyn toured the streets of Brooklyn Heights with Arthur Miller, who had become, according to the press, her de facto fiancé, although neither had offered any indication in public of a pending marriage. Their reticence, at least relative to the male side on the subject of plans connubial, would change by mid-year.
The shrewd woman returned triumphantly to Hollywood on Saturday, February the 25th, after a year-long, self-imposed exile on the other coast. Fundamentally, she had, by the dint of her resolve, savvy and incredible popularity, vanquished 20th Century-Fox and the mighty Darryl F. Zanuck. For her mutiny and her intransigence, for her victory over the Studio System, neither Fox nor Zanuck, maybe even more than a few of the powerful citizens of Hollywood, forgave Marilyn, the silly little nude pin-up model turned actress, the ridiculous caricature of female sexuality. Forgive her or not, she was the biggest, most powerful angel living in the City of Angels.
The fact that Marilyn founded her own production company probably rankled 20th Century-Fox and Darryl Zanuck, not to mention a few other studio heads, bosses who enjoyed the virtual servitude of their employees. While the studio's grip on their employee's professional and personal lives started to weaken before 1956, when Marilyn obtained script, director and cinematographer approval, the freedom to produce her own movies and the freedom to make movies for other studios, the collapse of the Studio System was all but assured. Appearing before the press, she patiently, and again with her usual wittiness, answered the media's inane questions about her clothes, her weight and her measurements.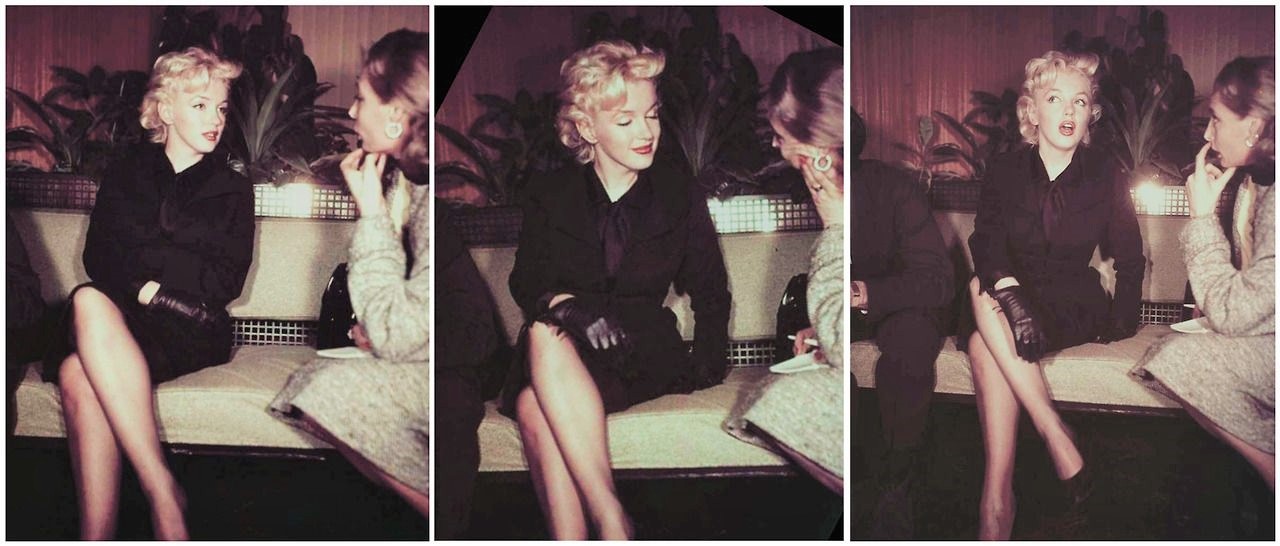 On March the 12th, she appeared before a judge adjudicating her petition for a legal name change. I am an actress and I found my name a handicap, she stated. I have been using the name I wish to assume, Marilyn Monroe, for many years and I am now known professionally by that name (Spoto 345). Without discussion or dissent, Norma Jeane Mortensen officially and legally became Marilyn Monroe.
Through most of March and continuing through all of April and May, Marilyn filmed Bus Stop in Phoenix, various other locations around that Arizona city, and in Idaho. The radical weather and temperature changes between the sets in Phoenix and Idaho created havoc with the health of Bus Stop's cast, including Marilyn's. Struggling with a serious case of bronchitis and a high fever, Marilyn entered the hospital on April the 12th for a week of doctor ordered rest and recuperation. As Marilyn entered St. Vincent Hospital, Arthur Miller entered a small house located at Lake Pyramid, for the purpose of establishing a two-month residency in Nevada, the time required to apply for and receive a quickie divorce. With the end of May came the end of filming so Marilyn returned to New York City on June the 2nd. A Nevada court dissolved Arthur's sixteen year marriage to Mary Grace Slattery on the 12th and the next day he was reunited with Marilyn on the streets of Brooklyn.
In 1956, the Red Scare was running rampant across America. Many persons in powerful positions feared that Hollywood and the movie industry had been infiltrated by communist agents and infected with communism. In response, the People's House created the House Un-American Activities Committee to determine the extent of the infiltration and the infection; and moreover, to discover the identity of those responsible. Many famous persons, primarily those with leftist leanings or ideas, involved in the arts or the movie industry, were accused of being communist sympathizers or of being outright communists. Such was the case with Arthur Miller.
Called to testify before the HUAC in mid-June, Arthur traveled to Washington while Marilyn stayed with his parents. Committee chairman, Francis E. Walter, notified Joe Rauh, Arthur's attorney, that the hearing would be cancelled if Marilyn consented to having her picture taken with several committee members. Both Arthur and Marilyn refused (Vitacco-Robles v1:581). The playwright answered all the questions posed about his political activities and denied any real affiliation with the American Communist Party. He refused to answer any questions about friends or acquaintances. Arthur eventually declared under oath:
I could not use the name of another person and bring trouble on him. These were writers, poets, as far as I could see, and the life of a writer, despite what it sometimes seems, is pretty tough. I wouldn't make it any tougher for anybody. I ask you not to ask me that question. I will tell you anything about myself, as I have (Vitacco-Robles v1:583-584).
Arthur's refusal to squeal, as it were, to cooperate as Elia Kazan had already done, garnered Marilyn's admiration. The pressure on Arthur to cooperate with the HUAC was enormous. The pressure on Marilyn, from certain friends and members of the Hollywood hierarchy to denounce Arthur, was also tremendous. Although her career hung in the balance, Marilyn never considered leaving Arthur's side. Such was her resolve and her courage.
Denied a simple passport renewal because of alleged communist ties, Arthur used the opportunity of appearing before the HUAC to ask for its return so he could travel to England to be with the woman who will then be my wife. Watching the proceedings on television in New York City, Marilyn heard Arthur announce: I will marry Marilyn Monroe before July 13 when she is scheduled to go to London to make a picture. When she goes to London, she will go as Mrs. Miller. Marilyn reacted with: He announced it before the whole world! Can you believe it? You know, he never really asked me. We talked about it, but it was all very vague. She added, with unveiled sarcasm: It was awfully nice of him to let me know his plans (Spoto 362). Mr. Spoto offered the following analysis:
Arthur Miller's passport was granted (not for the then normal term of two years, but for six months only, beginning July 6). A lover — especially the fiancé of America's favorite beauty — simply could not be dangerous to the United States, for Communists were not romantics … a serious man affianced to Marilyn Monroe legitimized the public's adoration of her, just as her acceptance of him made Arthur Miller somehow less threatening and toned down his role as a controversial figure. His announcement had made him—well, simply a man in love wishing to take his bride on a honeymoon … For the moment it could be forgotten that in the committee hearings he was raised to almost heroic status among liberal-thinking Americans confronting the Orwellian spirit of the times (Spoto 362-363).
The press reacted by dubbing Arthur and Marilyn The Egghead and the Hourglass and hounded them for details. The famous couple finally agreed to hold a press conference on June the 29th at Arthur's farm in Roxbury, Connecticut; but tragedy marred the event. The car carrying journalist Mara Scherbatoff crashed into a tree while in hot pursuit of Arthur's car. Hundreds of newsmen watched as the Miller's car arrived, watched as Marilyn dashed into the farmhouse, rendered nearly hysterical by the tragic accident. When they finally appeared before the press, Marilyn appeared shaken and Arthur answered most of the questions posed by the reporters. He only said that the wedding would occur very shortly. Later that evening, they managed to sneak off and travel to White Plains, New York, where Judge Seymour Rabinowitz performed a brief civil ceremony. Two days later, twenty-five friends and family members, gathered for a Jewish ceremony. According to Amy Greene, Marilyn experienced some misgivings that eventful day. Amy confirmed that Marilyn considered Mara Scherbatoff's death a bad omen portending dark things, clouding the wedding and then Amy added: But she also knew that she had made a terrible mistake in agreeing to this marriage (Spoto 365-366). According to Mr. Spoto, Milton Greene telephoned, Irving Stein and alerted his attorney to a potential problem with a Marilyn's civil wedding, prior to the following conversation:
Milton: Do you really want to go ahead with this marriage? You don't have to, you know.
Amy: We can put you in a car and we'll deal with the guests.
Marilyn: No. I don't want to go through with it.
As Milton prepared to attend to the difficult and awkward task of notifying those in attendance, Marilyn called him back. No, Milton! she announced. We've already invited all these people. We can't disappoint them.
A tearful Marilyn decided to proceed with the marriage ceremony because she did not want to disappoint the invited guests; but primarily she did not want to disappoint Arthur's parents (Spoto 366). At the end of the day, one might conclude, that she was at least legally Mrs. Arthur Miller, if not spiritually.
The movie, the performance proving Marilyn was indeed a serious actress, as if she hadn't proven that already, premiered on Friday, the 31st of August, in New York City. Her performance as Cherie, a weary but iron-willed bar room chanteuse, received glowing reviews and her overwhelmed director, Josh Logan, described her as one of the great talents of all time, and the most talented motion picture actress of her day—warm, witty, extremely bright and totally involved in her work. I'd say she is the greatest artist I ever worked with in my entire career (Spoto 358). No doubt, it must have been particularly painful for Marilyn to have her best work, so judged by many, including her most fervent detractors and critics, ignored by Hollywood. Her leading man, however, appearing in his first movie, received the Best Supporting Actor nomination. Even though Don Murray did not win the Oscar, the fact that he was even nominated must have annoyed, even perplexed Marilyn and rightfully so: Don Murray was the male lead. It seemed as if, once again, Hollywood was ridiculing her. The Golden Globe nominated her for Best Motion Picture Actress in a Comedy or Musical. She did not win.
Marilyn was not able to attend the American premiere of Bus Stop. She was in England, along with Arthur Miller, struggling to film The Prince and the Showgirl, the first movie produced by Marilyn Monroe Productions. Well documented by the diaries of Colin Clark and the 2011 movie, My Week With Marilyn, the filming at Pinewood Studios near London was difficult during its better moments and torturous during its worst. Marilyn's ingestion of sleeping pills, other barbiturates and alcohol, some allege, escalated during her time in England. Problems with the production, her insecurities and nascent difficulties in her fledgling marriage to Miller began to extract a toll. The situation became so untenable at one point that Milton summoned Dr. Hohenberg to London. She announced that Marilyn and Milton acted foolishly when they formed Marilyn Monroe Productions; and she expressed doubt that their strained and fragile friendship would survive the emotionally charged and highly stressful situation. Marilyn interpreted that judgment as a repudiation of her professional success but even so, she accompanied Dr. Hohenberg to visit Anna Freud, friend, colleague and Sigmund's daughter. Some claim Marilyn had a few session with the famous psychiatrist's daughter. Some dispute the claim; but Hohenberg's prescriptions for the pills continued. Then in late August, Marilyn discovered she was pregnant. She miscarried about three weeks later. Saddened by the miscarriage but happy, and relieved, to see the end of filming in November, Marilyn and Arthur returned to America, then traveled to the island of Jamaica. Mr. and Mrs. Arthur Miller vacationed at a location called Mootpoint as 1956 came to a close.
What began with such promise at the beginning of 1955 began to unravel by April of 1957: an acrimonious battle for the control of Marilyn Monroe Productions, and also Marilyn, began between Arthur Miller and Milton Greene, two of the most important men in Marilyn's life. During their stay in London, Marilyn's trust for each man began to deteriorate; but at that time, she chose her husband over her photographer and business partner. On April the 15th, Marilyn announced changes in the structure of her production company. The changes she made marked, for all intents and purposes, the end of Marilyn Monroe Productions and certainly her friendship with Milton, both due to the adulterating influence of Arthur Miller. Dr. Hohenberg's prediction was proven accurate.
On the 13th of June, hundreds of fans and reporters greeted her at Radio City Music Hall when she attended the premiere of The Prince and the Showgirl. Unfortunately, it did not receive the same glowing reviews garnered by Bus Stop. Marilyn's natural, ebullient portrayal of Elsie Marina, a willful but sweet, sneaky smart American showgirl who falls in love with Olivier's stiff Carpathian Prince, was all but ignored by Hollywood and the Motion Picture Academy of Arts and Sciences. Marilyn's spirits began a slow, inexorable decline.
Offering some consolation, the movie received five BAFTA nominations, winning none; but the French Film Academy and the Italian Film Academy arrived to momentarily lift Marilyn's languid spirits. From France she received the Crystal Star Award, from Italy, the David Di Donatello Award, both for Best Foreign Actress, each award the equivalent of an Oscar. Other than her appearance at the premier of The Prince and the Showgirl, Marilyn was absent from the movie industry throughout 1957 while she continued to study with Strasberg. Marilyn Monroe Productions, something for which she had fought assiduously all of her career, limped along, relegated to being nothing more than a tax shelter.
With her estrangement from Milton, Marilyn realized that she needed to change psychiatrists, so to that end, she telephoned Anna Freud. Anna immediately recommended her close friend, Marianne Kris. Dr. Kris was a psychiatrist who specialized in the treatment of children but she also treated adults; her father had been the Freud's pediatrician. Marilyn began sessions with Dr. Kris while attempting to assume the role of a country housewife. She watched 1957's final sunset from Amagansett hamlet, situated on the tip of Long Island, New York. Another year would come and go before Marilyn would finally return to the screen.