1951
Darryl Zanuck Reconsiders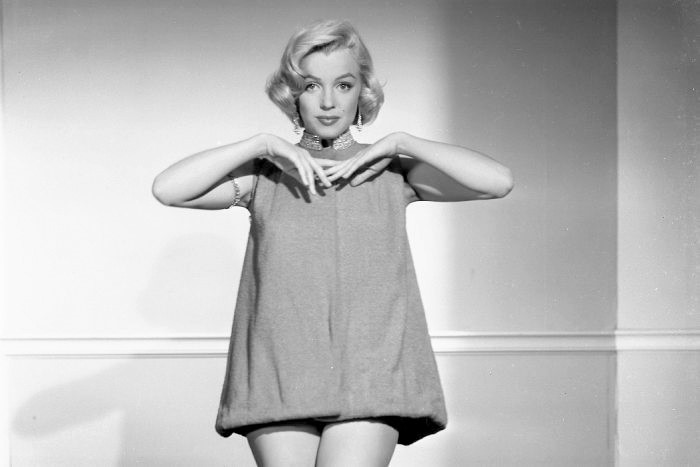 Despite her mesmerizing screen presence and her performances for Huston and Mankiewicz, with the start of 1951, Marilyn appeared on-screen in the curious political drama, Home Town Story, the first movie in her Silly Secretary Trilogy. She played Iris Martin, a stern and acutely professional secretary employed by a small town, family-owned newspaper. Dissatisfied with her roles and her lack of professional security, Marilyn visited her representatives, looking for some help and advice; but none was forthcoming. Johnny's friends at the William Morris Agency blamed Marilyn for his death. She contacted her former agent, Harry Lipton, and asked for advice. He suggested Famous Artists and Hugh French. Almost immediately, Hugh agreed to represent Marilyn and began negotiations with Fox. He might have secured a long term contract for Marilyn eventually, but her entrance at Fox's annual exhibitor's party certainly aided his efforts. An article which appeared in Collier's memorialized the event and described Marilyn's entrance. She appeared like a blonde apparition, causing the noisy crowd to hush; and then she stood, surrounded by onlookers, a little breathless, just like Cinderella who had just stepped from the pumpkin coach. The effect she had on those in attendance, some of them Hollywood elites, was not lost on the attending theater owners and operators. They wanted to know more about this blonde force: who was she and what movies were in her future? Spyros Skouras, the president of 20th Century-Fox, was so enchanted by her entrance that he had her seated at his table between himself and Darryl Zanuck. Not long thereafter, she agreed in writing to be a Fox player for the next seven years.
In March, Marilyn appeared for the first and only time at the annual Academy Awards. She presented the Oscar for best achievement in sound to Thomas Moulton for All About Eve. With the announcement of her long term contract and her appearance at the Academy Awards, Fox shifted its mighty star making and myth producing apparatus into high gear. Thousands of photographs were sent to America's newspapers each week along with stories about Fox's new Starlet. As a result, the amount of fan mail Marilyn received at the studio increased dramatically. As fame entered Marilyn's life, so did three influential and famous men: director Elia Kazan, playwright Arthur Miller and the renown acting teacher and nephew of playwright Anton Chekhov, Mikhail Aleksandrovich Chekhov, otherwise known to his friends and students as simply Michael.
Elia Kazan had previously met Marilyn at a Johnny Hyde sponsored party in mid-1950; but when he sought her out on the set of As Young As You Feel in early 1951, he had but one thing on his mind; and that one thing was not eternal love. The well-known and inveterate womanizer found Marilyn alone and crying. Although she was still mourning Johnny Hyde's death, she accepted Kazan's dinner invitation.
Playwright Arthur Miller was with Kazan that day, received an introduction and found himself deeply affected by the beautiful actress. The three became pals and spent a considerable amount of time in each other's company through the first half of the year. Actress and director became romantically involved while the playwright became the odd-man-out; but Arthur accompanied Marilyn and Kazan on a few informal outings and picnics. One outing in particular probably afforded the actress some pleasure, a visit to the office of Horrible Harry Cohn. Kazan pitched one of Miller's screenplays to Harry. Kazan saw a potential movie that he hoped to direct for Columbia Pictures. If Cohn recognized his former contract player, one to whom he was often less than complimentary or very kind, he did not reveal his recognition.
Miller's screenplay never made it to the big screen, and Marilyn's romance with Kazan fizzled as summer ended. He invited Marilyn to attend a party with him but then decided to start a new peccadillo with another Hollywood starlet. As a favor to Kazan, Arthur agreed to accompany Marilyn to the party. She was moved by Arthur's romantic and attentive treatment of her throughout the evening. Moved by the experience himself, Arthur later wrote: She had taken on an immanence in my imagination, the vitality of a force one does not understand but seems on the verge of lighting up a vast surrounding plain of darkness (Spoto 186). Four years would pass before the bright, vital force Arthur did not understand reunited with him amid intriguing circumstances.
With the onset of 1951, Marilyn began private acting lessons with the elderly and revered Michael. He encouraged her to think of her body as an instrument, one she could play to express creative ideas. On his suggestion, she studied The Thinking Body, Mabel Todd's analysis of the human body's mechanics and dynamics. She also studied her teacher's book, To the Actor: On the Technique of Acting.
At this point in Marilyn's life, her lack of a formal education began to trouble her: Fred Karger's frequent criticism of her under-developed mind became a nagging doubt. In My Story, she confessed:
There was no hiding from it. I was terribly dumb. I didn't know anything about painting, music, books, history, geography. I didn't even know anything about sports or politics … I decided to go to school. The next day I enrolled in the University of Southern California. I subscribed for an art course. I went to school every afternoon and often in the evening (Monroe 138-139).
In June, Fox released As Young As You Feel, the second movie in Marilyn's Silly Secretary Trilogy. Cast as Harriet, a secretary like Hometown Story's Iris Martin, Marilyn delivered an energetic performance. In July, Stars & Stripes, honored her with their Miss Cheesecake of 1951 award and when Fall arrived, Look and Colliers featured stories and photographic spreads about America's rapidly rising star. The stories that appeared in the magazines were true, mostly; but they contained distortions and fictions concocted by Fox's publicity department, not an unusual publicity ploy used in the fifties.
Through late summer and early autumn, Marilyn occupied herself on the sets of two minor movies: Love Nest and Let's Make It Legal. Marilyn's Love Nest costar, Jack Parr, was one of her peers who spoke unkindly about her during this period of her career. Due to the influence of Natasha Lytess and Southern Cal, Marilyn had become a voracious reader. She often carried a book on-set; but Jack found both Marilyn, and her propensity for having a book with her, to be disingenuous and tiresome: he claimed he never actually observed Marilyn reading. According to Jack, the thin façade of Marilyn Monroe merely cloaked the real person behind it, a frightened waitress in a diner. One might conclude that Marilyn's seriousness about her craft and art, her serious study with both Natasha and Michael Chekhov, all at her own expense by the way, meant absolutely nothing to Fox's executives. For sure, her seriousness meant nothing to Jack Parr, now remembered as the guy who hosted "The Tonight Show" before Johnny Carson.
The frightened waitress in a diner appeared on-screen in two movies during the month of October. On the 10th in Love Nest, with June Haver and William Lundigan, Marilyn portrayed Roberta Stevens, a WAC who served during WWII with William Lundigan's character; and on the 31st in Let's Make It Legal, she portrayed Joyce Mannering, a gold-digging, voluptuous beauty contest winner with Claudette Colbert and Macdonald Carey. But for the frightened waitress working in that diner, as pyrotechnic displays across America signaled the end of 1951, little did she realize, that with the beginning of the new year, she would become an exploding firework herself and ignite a serious revolution.