Making a Movie Within a Movie
9 October 2011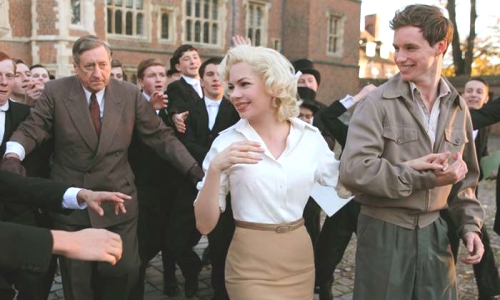 In 1956, Colin Clark desperately wanted a career in motion pictures. Luckily for him, his family enjoyed the privilege and power of the upper-crust of English society. After all, Colin's father was the world renowned art historian, Sir Kenneth Clark, Lord of Saltwood. The Clark's friends included, along with many other rich and famous stars, Sir Laurence Olivier and his wife, the actress Vivien Leigh. While both were friends of Colin's, he enjoyed a closer friendship with Vivien. So, considering the position of the Clark family in 1950s English society and their relationship with the Oliviers, along with Colin's, it's not surprising that he landed a job with Laurence Olivier Productions, due primarily to pressure from Vivien. Colin was hired just before filming began on The Prince and the Showgirl, a movie to costar Marilyn Monroe and Olivier, who would also direct the drawing room comedy. Due to Colin's lack of experience in the movie business, he ended up the third assistant director, the go-fer. What was his job? To do whatever he was told to do. But that was not important to Colin. He simply wanted to run away and join the circus.
Even though Colin was not an experienced third assistant director, he was well educated, both a graduate of Eton College and Oxford University. Perhaps his upper-crust English education contributed to his propensity for keeping diaries, one he shared with his older brother, Alan Clark, who kept and published a famous political diary. Less historically significant than his older brother's perhaps, but now equally as famous, Colin's diary memorial-ized the on-set problems and conflicts that developed while making The Prince and the Showgirl. Colin's journal, entitled The Prince and the Showgirl and Me: Six Months on the Set with Marilyn and Olivier was published thirty-eight years after the fact. Five years later, at the start of the new millennium, Colin published a second, more intimate and more personal diary. The second diary provides an account which starts on Tuesday the 11th of September and ends on Wednesday the 19th. During those intoxicating, early autumn days, he purports to have been Marilyn's close chum, her confidant and her touchstone. He allegedly spent some up close and personal time with her, away from Pinewood Studios, the tense movie sets and the influences of her entourage. The second, personal journal combined with the observations contained in the first one, comprise the basis for the movie that shares its name: My Week With Marilyn.
The mystery of her hasn't really been solved, I think, of what … what it was … what that combination was that made her so … that you couldn't take your eyes off of her.1Interview with Michelle Williams.
DVD Special Feature.
The Untold Story of an American Icon. 2011.
Michelle Williams
Like most of the movies in which Marilyn actually performed and starred, the critical opinions of My Week With Marilyn, in which she is just one of the principle characters, vary wildly. Some critics found the movie good and some critics found the movie bad and some critics did not find a movie at all. In October of 2011, Emanuel Levy critiqued it as a shallow, slight, and cliché-ridden movie that was nonetheless a sporadically charming and mildly enjoyable film, a fluffy chronicle of a crucial week in the life of the iconic star.2"My Week With Marilyn."
Emanuel Levy. 9, Oct. 2011.
<http://emanuellevy.com/review/my-week-with-marilyn-shallow-showbiz/>
Writing for The Wall Street Journal in November of 2011, Joe Morgenstern perceived the movie this way:
When bad movies happen to good people, the first place to look for an explanation is the basic idea. That certainly applies to My Week With Marilyn, a dubious idea done in by Adrian Hodges's shallow script and Simon Curtis's clumsy direction.3"My Week With Marilyn".
Joe Morgenstern. 25, Nov. 2011.
The Wall Street Journal. 5, May 2015.
Dow Jones & Company, Inc.
<http://www.wsj.com/articles/SB10001424052970204443404577054623487923242>
Also in November of 2011, Michael Phillips, film critic for the Chicago Tribune, saw a
genteel backstage gossip item. It's not much. But Michelle Williams and Kenneth Branagh are pretty wonderful in it―the problem, of course, being that actors can't do anything about the way they're being filmed, or the script they're handed. Amid pedestrian staging and direction, Williams valiantly presents a woman who is equal parts calculation and guilelessness, and whose crippling insecurities and chronic lateness drove Olivier to distraction […]. First-time feature film director Simon Curtis has made a minor picture about a minor picture, major talents notwithstanding.4"My Week With Marilyn:
Dim light on 2 major stars."
Michael Phillips.
22, Nov. 2011. Chicago Tribune.
<http://articles.chicagotribune.com/2011-11-22/entertainment/sc-mov-1121-my-week-with-marilyn-20111122_1_colin-clark-marilyn-monroe-my-week>
Mr. Phillips affords Simon some critical relief by noting a frustration with the quality of the original film, Olivier's minor picture. I'm not sure, however, if the major talents to whom Mr. Phillips refers are Marilyn and Sir Laurence or Michelle Williams and Kenneth Branagh. Maybe his reference to major talents includes all the involved stars.
A considerable amount of negativity delivered by the critics focuses on the lack of any really shocking or new biographical information presented in the movie, which they consider to be a Marilyn Monroe biopic. Emanuel Levy explained:
I suggest that those who know Marilyn's life and Hollywood history of the 1950s, will be vastly disappointed, for the movie doesn't contain a single note, or fresh observation, which are not already familiar from the vast, mythic lore (and folklore) of docus, books, biographies, memoirs, and albums about the legendary star.5"My Week With Marilyn."
Emanuel Levy. 9, Oct. 2011.
<http://emanuellevy.com/review/my-week-with-marilyn-shallow-showbiz/>
Emanuel may be right; but considering the movie was based on two memoirs written in diary form, the veracity of which many have questioned, how could the movie be biographical? Both Simon Curtis and Michelle Williams denied that pedigree. Certainly My Week With Marilyn is not a biopic, a fact confirmed and reinforced by the movie's title and this indisputable fact: the amount of time in Marilyn's life the movie involves is not one week but four months plus one week. Marilyn and Arthur landed at London Airport on Saturday morning the 14th of July in 1956. They departed on the 20th of November.
While not a biopic, the movie imparts biographical information that may be well-known to Marilyn aficionados but probably not well-known to new or casual Marilyn fans or non-fans. Point of fact, when I first screened My Week With Marilyn in August of 2013, I was more of a non-fan, a person just casually acquainted with Marilyn Monroe. For instance, I did not know that Marilyn was a Hollywood rebel, that she started her own production company, that she suffered from severe insecurity or that the persona of Marilyn Monroe was tantamount to a costume cloaking Norma Jeane. Each scene adroitly presented a woman with whom I was not at all familiar; and as I watched Michelle Williams, I was, for all intents and purposes, experiencing Norma Jeane and Marilyn Monroe for the very first time. So beguiling was the spell woven by this remarkable movie, that only one viewing started me on my journey to becoming a Marilyn devotee, to becoming MO: Marilyn Overwhelmed. (So, as you might expect, it occupies a special place in my heart.) While perfection is a word that I have all but leached from my vocabulary, in my opinion, this movie approaches that singularity and Rex Reed agrees:
In the weekly grind of seeing, suffering through, and writing about what passes for movies today, perfec-tion is a word I rarely have the occasion to use. A warm, wonderful and enchanting work of artistry such as My Week With Marilyn is the exception to that problem. What an extraordinary thrill to leave a movie exhilarated instead of drained, sated instead of empty, rejuvenated instead of depressed. It's a magical experience.6 "Michelle Williams … Marilyn Monroe".
Rex Reed. OBSERVER/Culture. 22, Nov. 2011.
<http://observer.com/2011/11/rex-reed-marilyn-monroe-michelle-williams-eddie-redmayn/>
Like Rex, I found the movie enthralling and it's difficult for me to comprehend why anybody would not. After all, at its core, the movie is a genteel love story, a dalliance involving the most famous and alluring woman in the world and a relative nobody. Certainly most, if not all, heterosexual men have fantasized about such a rare, such a ripe situation, if not involving Marilyn Monroe then involving Scarlett Johansson or Kate Beckinsale; pick any current beauty of the Silver Screen. (I suggest, along with screening My Week With Marilyn, screen Notting Hill.)
Filmed at Pinewood Studios, where The Prince and the Showgirl was filmed and also inside the actual residence where Marilyn and Arthur Miller lived during their stay in London, the movie certainly presents a geographic realism, a realism that is reinforced by the period set decoration, a realism expanded by Adrian Hodges' deft screenplay: he depicts the many famous icons appearing in this film with judicious regard, honestly, realistically but without being judgmental or resorting to cliché. We see the strained relationships, the backstage machina-tions, both sexual and political, the humor, the sadness of sensitive but powerful people and how the weight of their celebrity effects their lives and their often peculiar personalities. The soft lighting and the cinematography, the many close-ups, along with the delicate score composed by Conrad Pope, adds meaning to the spoken and the unspoken. Obviously Simon Curtis knew the type of movie he wanted to make and he did so successfully while also eliciting some indelible performances from his excellent cast: the acting is stellar, top to bottom. Dominic Cooper is excellent as Milton Greene, Marilyn's friend, business partner and photographer. A sensitive and intelligent man, he tries to mediate the less than friendly working relationship between Marilyn and Sir Laurence while also trying to maintain some sort of control over Marilyn, a woman he obviously loves. Zoe Wanamaker shines as Paula Strasberg, Marilyn's mother surrogate, lioness-like defender and ubiquitous acting coach. Dougray Scott, in what amounts to a cameo appearance, nonetheless captures the pretentious Arthur Miller, Marilyn's toffee-nosed husband. Equally excellent in supporting roles are Julia Ormond as Vivien Leigh, Ema Watson as Lucy, Dame Judi Dench as Dame Sybil Thorndike, Toby Jones as Arthur Jacobs and Philip Jackson, who plays Roger Smith, Marilyn's bodyguard. Roger, for some odd reason, is my second favorite character in the movie. However, the magical light, the energy of the movie emanates from its three principal characters and the actors who portray them: Kenneth Branagh, Eddie Redmayne and Michelle Williams.
Kenneth transforms himself into the arrogant, condescending and pompous Sir Laurence, the world's most acclaimed and revered stage actor. Olivier huffs and puffs, quotes Shakespearean dialogue with great verve, shouts and hollers, acts frustrated and disinterested, alternately denigrates and praises Marilyn. Although he is twenty years older than his co-star, he has designs for an affair that never develops. He claims to admire Marilyn's accomplishments, her toughness, and in spite of her behavior. He admits that he hoped to rejuvenate himself through working with her, but it just doesn't happen for the aging thespian, at least, not the affair. While Kenneth renders Olivier with a certain ferocity, he also manages to reveal the vulnerability of the man, his fear of growing old, his fear of becoming irrelevant.
Eddie gives a nuanced and touching performance as Colin, the sensitive and naive, slightly dull but intelligent young man who becomes enamored of and attracted by Marilyn's powerful magnetism. Most of the time he is simply bedazzled by her effulgence. His facial expression vacillates between fearful and bewilderment as the magical events unfold: he is unsure where the events will eventually lead him. It's not difficult to imagine that he probably pinched himself frequently enough to bruise certain areas of his body. Even though he receives a substantial amount of fatherly advice and grim warnings about getting involved with Marilyn, Colin ignores it all and rushes headlong into a relationship, during Arthur Miller's absence, that can only end one way, as Milton predicts, with a broken heart: that's what Marilyn does; she picks men up; she puts men down; she breaks men's hearts. Young Colin ultimately ruins what would have been, for him, a more sensible relationship with Lucy, the wardrobe girl, and in the process learns, as Dame Sybil Thorndike comments: first love is such sweet despair, Colin.
But the most incredible performance of the many delivered in My Week With Marilyn is delivered by the petite and pixy-like, Michelle Williams, in spite of her incongruous physicality; she's not nearly as voluptuous as Marilyn; her eyes are not nearly as expressive; and she is not quite as radiant; but Michelle renders Marilyn without the cliché or caricature of mimicry and she does not try to imitate that which cannot be imitated. Therein one finds the reason for Michelle's success. She suggests, she gently implies Marilyn. Her innocence is there, as is her sexiness and her alluring beauty along with her ugly foibles, her neurotic insecurity and her irritating propensity to be tardy. The vivacious, carefree and child-like Marilyn gets her moments on-screen as does the wise and the tough Marilyn, as does the soft and the sensual, the sad and dreamy Marilyn, the siren that educed in both men, and women, a profound desire to protect her, to save her and, ultimately, to possess her. Michelle's Marilyn is simple yet complex, innocent yet worldly, unbound yet entrapped, happy yet morose. We all know there was a real Marilyn, a real Norma Jeane, and even though we did not know her, we believe she must have been something like us. In short, Michelle finds the person, the woman inside the legend.
Did Colin actually spend some intimate time with Marilyn? Did he skinny-dip with her in the Thames? Did he sleep in her bed with her? Did he actually witness her miscarriage? A few say yes; a few say no way; and a few ask: Does it really matter? Perhaps; perhaps not. Rex Reed doesn't care about the veracity of Colin's alleged tarradiddle:
Some members of the British press7 "Michelle Williams … Marilyn Monroe".
Rex Reed. OBSERVER/Culture. 22, Nov. 2011.
<http://observer.com/2011/11/rex-reed-marilyn-monroe-michelle-williams-eddie-redmayn/>have done their best to contest the accuracy of Mr. Clark's books, labeling him a parasite and a phony, accusing him of embellishing the facts and claiming that as a third assistant to director/star Laurence Olivier on The Prince and the Showgirl he never got any closer to Marilyn than fetching coffee. Who cares? His memories, no matter how hyperbolic, make for first-rate filmmaking and the script by Adrian Hodges distills every poignant, startling, rapturous and heart-breaking highlight of importance from his two best-selling autobiographical memoirs.
Perhaps a dubious Michelle Williams has assumed the best perspective: Colin's story is merely a confection, a beautiful fairy tale. I agree with her. But here are two facts that can't be denied: the events of late summer in 1956 could have transpired just as Colin described; but regardless, like many others, Colin Clark entered the realm of immortality due to his magical encounter with the larger than life Marilyn Monroe.
The Clark Brothers Briefly
Alan Clark was a British Conservative Member of Parliament, historian and diarist, who also served as a junior minister in Margaret Thatcher's government in the Departments of Employment, Trade and Defense. He became a privy counselor in 1991 and was the author of several books on military history, including his controversial 1961 book, The Donkeys. Clark was well known for his flamboyant wit and irreverence; and he was considered to be the most politically incorrect, outspoken and reckless English politician of his day. He is mostly remembered for his three-volume diary, a candid account of politics under Thatcher. At home in Saltwood Castle with his family, Alan died in 1999 due to complications caused by radiation therapy he received to treat a brain tumor. He was seventy-one years old.
Colin Clark continued his career with Sir Laurence on The Entertainer, Titus Andronicus and a few other stage productions. After working with Olivier, Colin became a floor manager for Granada Television and eventually rose to become their Head of Design. He moved to New York City in 1960 and established an educational television channel for PBS in New Jersey where he produced a series of programs entitled Art: New York. There is no indication that he ever attempted to contact or see Marilyn during his time living in New York City, which seems rather odd since Marilyn was frequently in Manhattan beginning in 1955 and until her death in 1962. Additionally, as far as I know, the name of Colin Clark was never uttered by Marilyn and he was never mentioned to any member of her small inner circle of friends.
I am not contending that his lack of effort to contact or see her, or Marilyn's silence regarding him, represents proof that his accounts are spurious. Yet, in my opinion, there are certain curiosities in his diaries that render them suspect. For instance, the tone of his diary leading up to the 11th of September and his romantic week, presents a young man not at all smitten with Marilyn Monroe, her appearance or her celebrity. He is more excited about Susan Strasberg's arrival in London for a visit and intends to have a go at her. When the diary resumes after his nine days of frolicking and falling in love with Marilyn comes to an end, the tone of the diary does not change one bit. To me, that seems slightly odd. Also, he makes some statements regarding Marilyn's suicide that I found particularly crass and heartless.
Colin eventually returned to London in 1965 and went to work for Associated Television as a documentarian. He also directed an art appreciation series with his father. After leaving Associated Television in 1971 to become an independent producer, he made several documentary films for various commercial sponsors and the Getty Museum. He retired from film making in 1987 in order to write books―his diaries, one assumes. He died at the age of seventy in December of 2002.