Documentary or Celestial Command
12 September 2012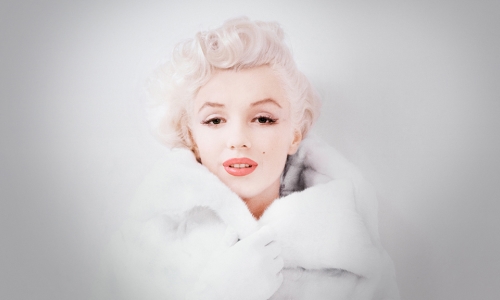 Marilyn made two specific and earnest requests during her interview with Richard Merryman just prior to her tragic and untimely death: Don't talk about me after I'm gone and Please, don't make me a joke. For the most part, both requests have gone ignored, just as Marilyn must have known they would. Even though I talk about her and write about her every day, listen to what others have said about her and read what others have written about her, also every day, I have never had the desire nor attempted to make her a joke. Many others have. Some of them are included in Liz Garbus' documentary, the title of which is also the valediction Marilyn normally used to end her personal letters.
I always approach Marilyn documentaries with an appropriate amount of skepticism and trepidation. There are many trashy, inappropriate and inaccurate documentaries about the world's most famous cinema actress; but Love, Marilyn, I was informed by my daughter, is founded on her actual writings, those revealed in the book published in 2010, Fragments: Poems, Intimate Notes, Letters. My daughter recommended the movie and all but ordered me to watch it. So, in spite of some doubts, but fearing female reprisals, I did. To my surprise, I was not totally offended, disheartened or sickened by what I heard and saw. Liz Garbus included the opinions of certain Marilyn critics and detractors that I would have left out; but then, I am prejudiced. Moreover, Liz did not seek my opinion or my advice.
Regarding the quality and value of Love, Marilyn, the opinions of critics and reviewers, amateur and professional, run the gamut, as usual. Some liked it; some hated it; and some were indifferent to it.
Melissa Anderson in writing for The Village Voice opined: Fifty years after her death, the actress's corpse is still being picked over with ever-diminishing returns, as evidenced in Liz Garbus's garish, misguided documentary […]. For Melissa, Garbus' structuring conceit, having actresses vocalize Marilyn's writings, amounts to histrionic ventriloquism which turns Monroe's life into The Vagina Monologues.
Keith Uhlich, for Time Out, was as unkind as Melissa. He opined: […] the badly miscalculated meat of the film is an endless parade of to-camera addresses by performers such as Lindsay Lohan, Viola Davis and Uma Thurman, all reading clumsily from Monroe's recently discovered letters and journal entries as if it were final-exam time at the Actors Studio.
And finally, Joe Neumaier, for the New York Daily News, offered this: […] the tenuous hook of Love, Marilyn is to punctuate these overly familiar bits with what feel like drama-school tryouts […] this well-intentioned but clumsy attempt to get into the head of one of the 20th century's most famous women remains full of hot air.
Unlike the reviewers just quoted above, I was not at all distracted by the lovely actresses who read Marilyn's stream-of-consciousness writings and attempted earnestly to dramatize them. I found their readings and their faces fascinating, superimposed over enlargements of Marilyn's disjointed and disconnected manner of spreading her thoughts across a page. Still, for a positive review, we must turn our lonely eyes to Entertainment Weekly and Owen Gleiberman:
Watching Liz Garbus' magical documentary Love, Marilyn, I realized not just how much we don't know about Marilyn Monroe but how a lot of what we think we know is more of a construct than a reality […] we hear her voice and glimpse her soul as never before. We also watch her in never-before-seen interviews, photographs, and home movies, some of which were shot when she wasn't wearing makeup. That's a good metaphor for what the film achieves: It presents Marilyn without the cosmetic cover of her mythologies.
I don't totally agree with Owen because most of the presented interviews, photographs and home movies have been seen; but at least he called the documentary magical.
The indifferent critics simply assert that Liz needn't have bothered to even make the documentary because she reveals nothing new about her subject whatsoever; and she avoids mentioning JFK and RFK altogether. The absence of the middle Kennedy Brothers is blamed on the Liberalism of HBO and their desire to maintain and protect the Kennedy legacy flimflam and sham. Once again the morass of Marilyn's alleged romantic association with the jinxed Kennedy clan conceals reality.
Those pococurante critics, due to their preoccupation with the sensationalistic and counterfeit Kennedy con-struct, miss several important aspects of Marilyn's personality and her character, mainly that she was not dumb. Far from it. Even so, she could not spell. They also miss Marilyn's significant letter to Lee Strasberg revealing her plans to start another production company, not with Milton Greene, but with Marlon Brando, a major revelation. She hoped that Lee would consider relocating to Hollywood and become a part of her new business endeavor. Unfortunately and strangely, the documentary does not include any commentary from either Brando or Strasberg regarding Marilyn's plans; and we are left scratching our collective heads, left to wonder why. Finally, how they miss the symbolic significance of Marilyn's surgery nightmare is, well, revealing.
More often than not, documentaries are cold-blooded offerings, like the reptiles of the cinematic world, featuring little emotion in their voice-over narration of the facts, nothing but the facts, ma'am. But Liz Garbus' approach to presenting her iteration of Marilyn Monroe's complicated life and career is more than different. It is, in accordance with John Grierson's principles of documentary, a creative treatment of actuality. Liz's documentary is devoid of lurid sensationalism: she reveals the human woman behind the inimitable construct of Marilyn Monroe. Perhaps that's the problem for many of the movie's critics, the exposition of Marilyn Monroe's humanness, the glimpse of Norma Jeane, the fact that Liz's movie is not devoid of emotion or strong feelings about the woman one critic called perhaps the 20th century's least resting-in-peace sex symbol.
In her review of the film for National Public Radio, Stephanie Zacharek wrote: Liz Garbus' documentary […] is a heartfelt and well-intentioned love letter to an already deeply beloved star. Stephanie is correct: Love, Marilyn, by and large, presents the star in a more than favorable manner. Liz doesn't idealize the woman or the actress so we get the voices of Jack Lemmon and Billy Wilder along with the voices of more sympathetic persons like Joshua Logan. The feisty and brutally honest Amy Greene is her usual spirited self. I wholeheartedly agree with her assessment of Arthur Miller. Sarah Churchwell offers a clear and refreshing voice. The mystery of the reasons why surrounding Marilyn's death will never be solved; and I accept that as a fact. Her fans should celebrate her life, not obsess over its untimely end.
Despite some flaws, or maybe I should say what I see as flaws, Love, Marilyn is a significant recounting of a portion of the life and career of Hollywood's most famous movie star and most underappreciated actress. For those who still believe the stereotype of Marilyn as a helpless, dumb blonde with limited acting skills, and there are more than a few who do, this movie should dispel that erroneous belief. Devotee or just a casual fan, you just might find it more than fascinating and stimulating, maybe even tear producing. I did. Drop the comma from the title, and it reads like a celestial command to love Marilyn. In response to that, allow me to admit: I do.