Marilyn Portrays a Pick-up Target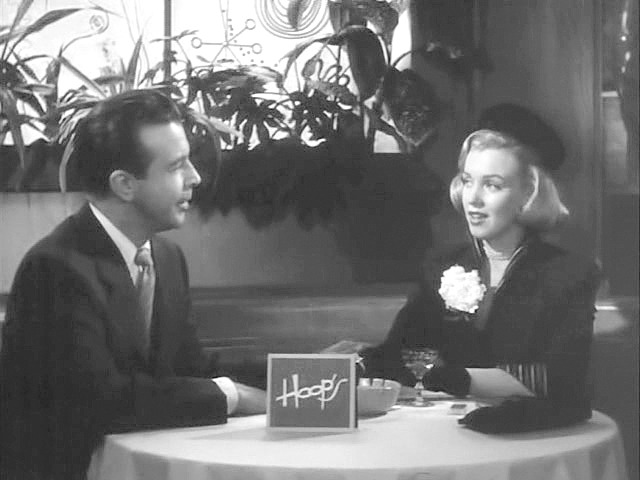 Dick Powell and June Allyson were actually husband and wife in 1950; but in the boxing drama, Right Cross, they are merely two sides of a love triangle involving them and prize fighter, Johnny Monterez, played by Ricardo Montalban. Dick Powell plays Rick Garvey, a sports writer who loves Pat O'Malley, June's character. Unfortunately, Rick's love for Pat is unrequited. Pat is the daughter of aging fight promoter, Sean O'Malley, played by the venerable Lionel Barrymore. Once the top promoter in the state of New York, Sean has been forced to retire due to failing health. With Sean now confined to a wheelchair, Pat has assumed the responsibilities of the family business.
Johnny Monterez is The Champ of the World (his weight classification is never revealed) and the only capital asset remaining in the family business, the only thing keeping Sean alive, his hope for a comeback. Johnny is also Pat's boyfriend. Even though he has never proposed to her, and several hints are dropped that their relationship includes sex, he is her de facto fiancé.
A competing fight promoter, Allan Goff, portrayed by Barry Kelley, wants to bring Johnny into his camp: Johnny is the only champion that Goff does not own. Goff offers the Champ a contract with an after retirement position, meaning a permanent and reliable, non-boxing income for Johnny. In the past, Johnny has steadfastly refused Goff's previous offers out of loyalty to the O'Malleys and his love for Pat; but when he injures his right hand while sparring, the situation changes. With an injured hand, Johnny has no future in boxing, and since Johnny believes that Pat loves his money and his title, not him, he must conceal his injury and accept Goff's offer. He must secure that reliable source of income so he can finally marry Pat.
Ironically, in order to accept Goff's offer, Johnny must end his contractual relationship with the O'Malley family and in so doing, he runs the risk of damaging, possibly ruining his relationship with Pat. It's no secret that Goff wants to sign Johnny and even Sean admits that Goff can do more for the Champ. Sean will not object, he tells Pat, if Johnny wants out of the O'Malley contract. And yet, finally faced with the reality that Johnny is actually going to join Goff, of course, Sean dies. Pat blames Johnny for Sean's death even though her ill father was suffering from heart disease. In anger and in pain over the death of her father, she begins a tentative relationship with Rick, who, she knows, has always carried a torch for her. Rick is aware, however, that she still desperately loves The Champ.
Despite Sean's death, Johnny's injured hand and all the other trouble in Johnny's life, the championship fight proceeds as scheduled; but Johnny loses his defense bout by a technical knockout. Afterwards in Johnny's dressing room, he and Rick quarrel over Pat which results in a bare-fisted punch landing on Rick's chin. Landing the punch re-injures Johnny's right hand and effectively ends his boxing career along with any future with Goff Productions. In the end, Pat realizes that Johnny did not kill Sean and finally Johnny realizes that Pat's love for him was not motivated by his boxing title or his money. They reunite and Rick doesn't seem to mind because, after all, he is the former Champ's best buddy. Happy times are here. Friendship and love conquer all once again.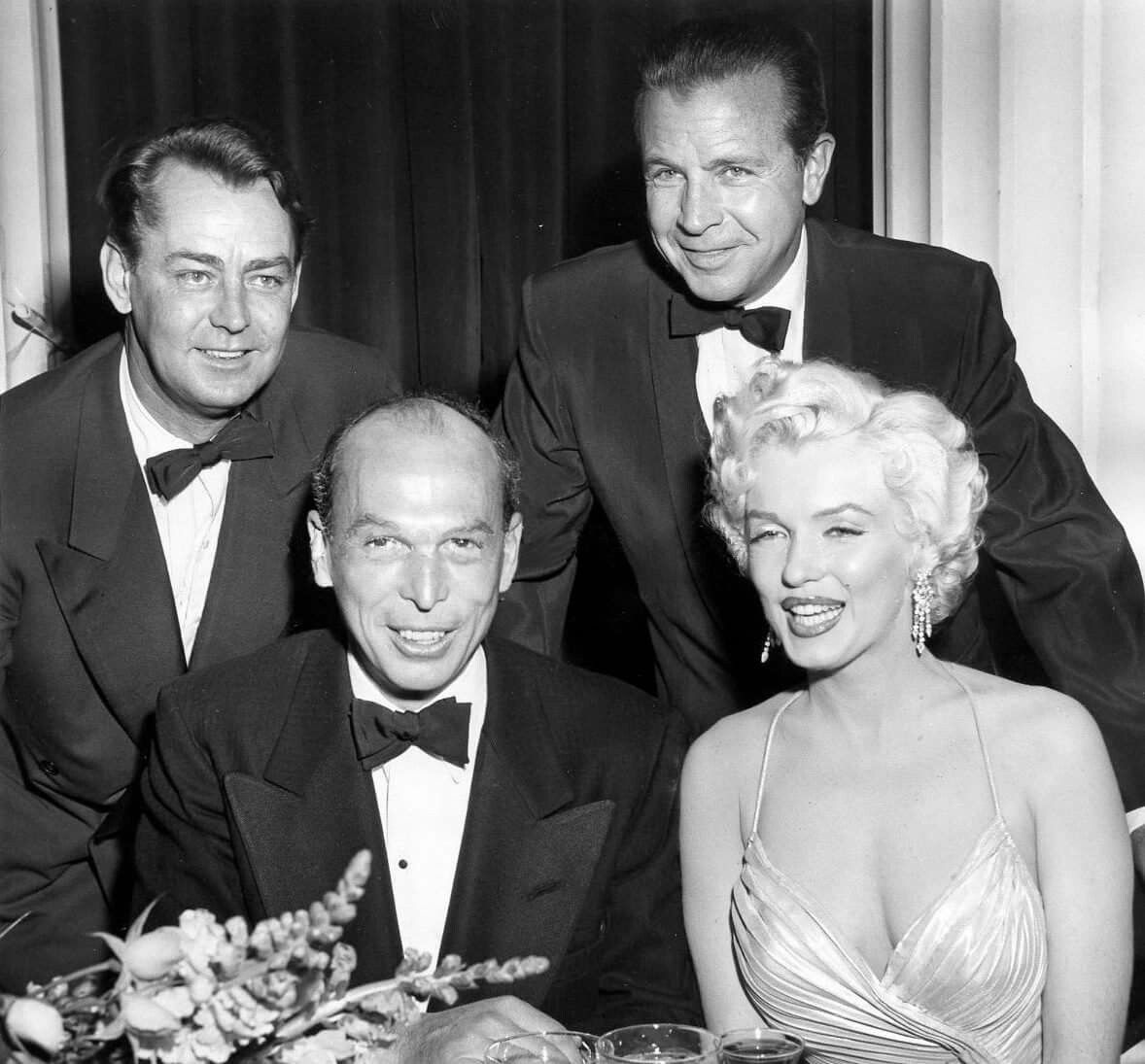 Sports movies, whether biographical, fictional or factual, usually offer audiences compelling drama and real excitement; and some of the most exciting, dramatic and compelling movies ever made are boxing movies: Requiem for a Heavyweight, Raging Bull, Rocky and The Fighter, to mention just a few. Through the plot of a sports, or even a boxing movie, it's not uncommon to weave a love story. Cinderella Man is a fine example of a movie about the life of a boxer that is also a love story. Likewise, Rocky features a love story; but it takes the deft hand of an adroit director to avoid the various pitfalls of mixing a sports story with a love story, lest one overwhelm the other. I can't say that Ron Howard or John Avildsen are better directors than John Sturges, a fine director with some great movies to his credit; but John did not avoid some pitfalls as well as Opie Taylor or Mr. Avildsen. Even so, Right Cross is not a horrible movie and while it might aspire to be a boxing movie, it falls well short of that aspiration. It is primarily the story of a love triangle, one leg of which happens to be a boxer.
Here's another problem with Right Cross: it presents too many meandering and aimless subplots, all of which suffer to some degree, including the pugilism, and the screenplay suffers from several illogical and momentary lapses in reason. For example, Johnny fundamentally dislikes gringos, an epithet used frequently throughout the movie. Johnny holds the opinion that gringos suppress Mexicans, especially him, and gringos consider Mexicans to be inferior, an opinion shared and also expressed by Johnny's mother. Yet Johnny is surrounded by gringos. His best friend is one and so is his fiancé, his promoter and manager, his attorney and so is Goff. Johnny doesn't appear to be suppressed by even one gringo. And too, are we to believe that in all of New York City no other Mexicans existed with the qualification to be best friend, fiancé, promoter, manager or attorney? And I must ask this question: is Johnny a common name given to male babies born in Mexico? The world renown and revered Internet encyclopedia, Wikipedia, maintains that Johnny is a nickname associated with the White Anglo-Saxon Protestant given name of John. Apparently there is no Mexican equivalent. So why does this angry Mexican, who obviously dislikes gringos, have a gringo given name, a gringo moniker? Did his mother, who also dislikes gringos, name him John Monterez? That doesn't make any sense; and The Champ's name is but one of several nonsensical aspects of Right Cross.
Regarding the acting, I will say this: all of the performers portray their characters well. Their portrayals are natural and each is committed to the characters they portray. Ricardo Montalban is particularly effective, slightly more than Dick Powell. But June Allyson seems miscast to me even though she portrays Pat well. I associate beautiful and sexy, willowy and leggy models or actresses with champion boxers; and while June is certainly a lovely woman, she just does not radiate sexuality in the same way leggy models often do. And, too, she has a tendency to whine; and as for Sean O'Malley, Barrymore plays him like the curmudgeon from It's A Wonderful Life, only not quite as wicked. I found all the main characters to be relatively unlikable and not persons that one might easily admire; but Johnny Monterez takes the prize as the duplicitous bigot and hypocrite. I'm not sure what Pat or even Rick see in the guy!
What does all the preceding have to do with Marilyn's appearance in the movie, you ask yet again? Well, yet again, absolutely nothing. Marilyn appears 29m10s into the movie in brief but memorable scene with Rick and The Champ. A YouTube clip follows at the end of this review.
The scene lasts about sixty seconds; but Marilyn's actual on-screen time is even less. Rick enters an eating establishment and watering hole called Hoop's. He spots Marilyn sitting alone in a booth. Her name is Dusky Ledoux, he is informed, a new model, fifties code for easy prey. He approaches her, sits down and then proposes they share a dinner of spaghetti with mushroom sauce, nice green salad, garlic bread, big bottle of burgundy at his apartment. Dusky responds with a bemused incredulity and Marilyn plays her with the kind of demeanor that her name suggests: dusky. She delivers her lines in a honey sweet, dusky voice, but her facial expressions reveal a woman who has heard all the lines, all the truffles offered by men looking for a fast and unencumbered sexual tussle. The tone of her voice and the expression on her face suggests that she not only knows the ingredients of the meal Rick proposes but how he intends to heat them. We will meet this enlightened type of gal again in The Prince and the Showgirl when we meet the remarkable Elsie Marina.
For a loose woman, for an actress who used her beauty, her body, her sexuality, for an actress who was sleeping her way to the top in the City of Angels, performing dutifully on the well-worn casting couch, Marilyn certainly was handed some disappointing and frivolous roles. Were her performances on the casting sofa so lousy, were the powerful men she was using sexually in her sleep climb to the top of Hollywood so disappointed with her performances that they rewarded her with equally lousy and disappointing roles?
Yet again, Marilyn's appearance in Right Cross was not credited.
Her next role, as a secretary in the message movie Hometown Story, would also be lousy, frivolous and as equally disappointing. One assumes that a few more spirited and inspired auditions and performances on the old Hollywood sex sofa would be required before Marilyn would get her big break.
Cast Notes
Ricardo Gonzalo Pedro Montalbán y Merino, known professionally as simply Ricardo Montalbán, was born in 1920 in Mexico City. He appeared in many movies over the course of his seventy year career, but he is probably best known for his portrayal of Khan Noonien Singh in Star Trek II: The Wrath of Khan. From the wicked contractor in Naked Gun: From the Files of Police Squad to an appearance with Debbie Reynolds in The Singing Nun, Ricardo accepted many diverse and challenging roles. He portrayed Mr. Roarke alongside Tattoo on the television series "Fantasy Island" and was the longtime spokesman for Chrysler Automobiles. Born with a spinal malformation, he was thrown from a horse and trampled by another horse while filming Across the Wide Missouri. This accident aggravated his birth defect and caused a terrible back injury from which he never recovered. In 1993, he had spinal surgery that left him paralyzed from the waist down, confined to a wheelchair and in constant pain. He died in 2009 at the age of eighty-eight from congestive heart failure brought on by old age.
Dick Powell was born in 1904 in Mountain View, Arkansas. He began his career as a singer; and in 1932, after Warner Brothers bought Brunswick Records, they signed him to a contract. His film debut was as a singing bandleader in Blessed Event. Type cast by Warner in roles he found limiting, he bought his release from Warner in 1940. His career changed dramatically when he was cast as Philip Marlowe in the film noir, Murder My Sweet, directed by Edward Dmytryk. From then on, he appeared in many noir films as a tough guy lead. Eventually, he became a film producer, a director and branched into television in the fifties. By the time he married June Allyson in 1945, he was already one of the wealthiest men in Hollywood. He and June remained married until his death from cancer in at the age of fifty-eight in 1963.
June Allyson was born Eleanor Geisman in 1917 and was a Broadway dancer until she signed a contract with Metro-Goldwyn-Mayer in 1943. Appearing with Van Johnson in four films in the forties, the studio cultivated her girl next door image alongside his boy next door image. Her breakthrough role came in 1944 with Van, Two Girls and a Sailor. She also performed in night clubs, on the stage and television. Abandoned by an alcoholic father at age six months old, she was raised by her grandparents in near penury. Nearly killed when a tree branch fell on her at age eight, she suffered a fractured skull and broken back. Her pet dog, which she had with her at the time, was killed. Doctors predicted that she would never walk again but after wearing a steel brace for four years she moved into a wheelchair, then crutches and then leg braces. She eventually recovered and found relief from her poverty and her sad life, like Marilyn did, in movie houses and theaters, watching Ginger Rogers and Fred Astaire. Later in her life, she became a philanthropist and a spokesman for seniors with incontinence. She was appointed by President Reagan to the Federal Aging Council in 1988. In 2003 following hip-replacement surgery, her general health deteriorated. At the age of eighty-eight, she died from pulmonary respiratory failure and acute bronchitis.
Lionel Barrymore, a member of the famous stage family, was born in 1878 in Philadelphia and began his career on stage around 1898, acting with his grandmother, Louisa Lane Drew. He spent several years in Paris before returning to Broadway in 1910. His film career began in 1911 at the Biograph Studios with D. W. Griffith. Lionel made many films during his forty-three-year career, but he is probably most often associated with the character of Mr. Potter from Frank Capra's It's A Wonderful Life. And, of course, he is Drew Barrymore's great uncle. Lionel was confined to a wheel-chair as a result of severe arthritis and he spent a major portion of his life battling severe pain. After appearing in Right Cross, he made only three more movies. He died in 1954 at the age of seventy-six after suffering a heart attack. Lionel has two stars on Hollywood's Walk of Fame.
Barry Kelley appeared with Marilyn in The Asphalt Jungle. He portrayed Lt. Ditrich, the corrupt police detective. Barry was primarily a stage actor during the thirties and the forties but he transitioned to films in 1947, appearing in Boomerang. Barry also guest starred on several television series in the sixties. He retired in 1969 and lived to become an octogenarian, dying in 1991 at the age of eighty-two.