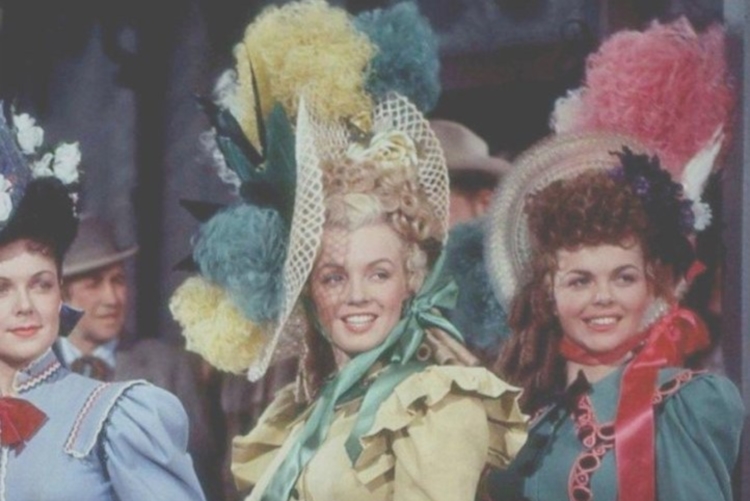 In 1876 Colorado, a steam-powered locomotive named Emma Sweeny, the finest and the only engine operated by the Tomahawk and Western Railroad, must travel from Epitaph to Tomahawk, two towns located in the Rocky Mountains. Emma must complete her short, sixty mile journey with a ticketed passenger on board so that the railroad will thereby fulfill the requirements of its charter and the Great American West will open to expansion, bringing progress and wealth and all the New York City actors to Hollywood.
Dan Dailey, who would later appear with Marilyn in Fox's tribute to Irving Berlin, plays a uniquely knowledgeable, well-traveled traveling salesman called Johnny "Behind-the-Deuces" Jameson, aptly nicknamed because he carries a deck of cards that are all deuces. Anne Baxter, who would later appear with Marilyn in All About Eve, plays Kit Dodge, the lovely, six-gun toting soft-in-the-middle-crack-shot-tomboy. Her grandfather, Dodge, the US Marshal, played by Will Wright, remarks that she can ride, shoot and spit better than any road agent, meaning highwayman, in the State of Colorado. We find out later, however, Kit knows absolutely nothing about busing, Johnny's term for kissing.
Her grandfather deputizes her after he is wounded in a gunfight with two bad hombres, and charges her with getting the locomotive, and Johnny "Behind-the-Deuces", their one and only ticketed passenger, to the required and stipulated destination. Along the way, they encounter many difficulties and many stereotypical characters, a troupe of four lively burlesque performers led by an aging but kindly matron appropriately named Madame Adelaide, played by Connie Gilchrist. The four performers are Julie, played by Barbara Smith, Annie, played by Marion Marshall, Ruby, played by Joyce Mackenzie, and last but not least, Clara, played by Marilyn. Rory Calhoun, who would appear with Marilyn in two additional films, plays the duplicitous Dakota, an agent for the stagecoach owner, who does not want the railroad to succeed. Walter Brennan, who appeared as Tony Maule in Scudda Hoo! Scudda Hay!, plays Terence Sweeny, Emma Sweeny's engineer. He loves the stream locomotive and refers to her affectionately as Miss Sweeny. Long Time is a Chinese laundryman and the target of a running joke about over-using starch in Johnny's white shirts. And, of course, the movie presents the obligatory, one dimensional Indians Hollywood depicted in the fifties.
Pawnee and Crooked Knife have both been completely Americanized; and even though Mr. Knife is at war with the palefaces, he is also blood brother to Johnny "Behind-the-Deuces", who has obviously led a most interesting life; and being Johnny's blood brother supersedes Mr. Knife's bloodthirstiness. So Crooked Knife and his braves assist Johnny and his paleface friends during their journey to Tomahawk. In spite of everyone's concerted efforts, the locomotive does not quite reach Tomahawk's city limits; but Johnny persuades the City Council to relocate the town's border and include the land where Miss Sweeny came to rest. As a result of increasing the town's size, the railroad satisfies its charter and is awarded a license to operate in Colorado, USA.
Of course, in the end, Johnny "Behind-the-Deuces" marries Kit Dodge, settles down and becomes the conductor on the Emma Sweeny. He also becomes a father. As the movie ends and as the train pulls away from Epitaph, father Johnny, while standing at the caboose railing, addresses his five small daughters: Bye, Connie, Barbara, Marion, Marilyn and Joyce, Goodbye. Thus the names of the five actresses who portray the members of the burlesque troupe are mentioned as a sort of jocose, tongue-in-cheek salute.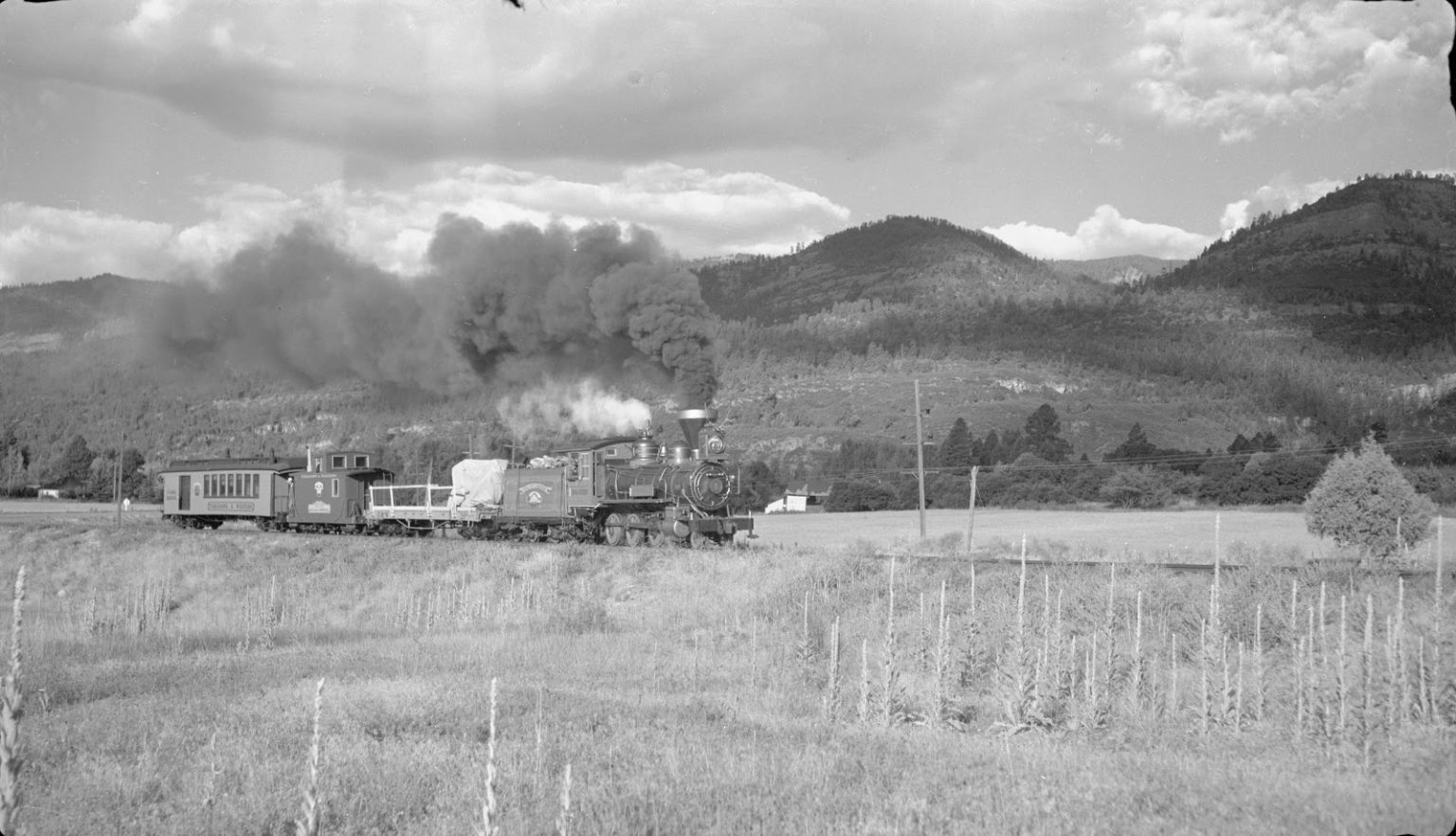 Partly cowboy and Indian face, A Ticket to Tomahawk is also partly burlesque, romance, good guy versus bad guy and partly a struggle between those who want progress and those who want it thwarted for selfish reasons. All in all, the movie is a pleasant and lively comedy that includes, along with the aforementioned cinematic elements, a unique slant on the traveling salesman and beautiful woman as tomboy gags; but mostly it has the same effect that would be created by a large group of talented children running through the Rocky Mountains, having great fun, with the added benefit of almost two million dollars to spend. Plus, it is relatively well-made and doesn't take itself too seriously. So, if you have the opportunity to watch A Ticket To Tomahawk, do so. Not a masterpiece, for true, just entertaining and funny. Even Bosley Crowther, The New York Times resident Curmudgeon Critic offered a relatively positive review in 1950:

However, as we say, there's lots of pleasure in "A Ticket to Tomahawk." Viewed as an uncompetitive venture, it offers surprising good fun. To be sure, its fanciful story of a rail-versus-stagecoach race to portage a narrow-gauged locomotive over a Colorado mountain pass, with the villains and the Indians opposing and Mr. Dailey caught in between, has a very perceptible tendency to run down long before the end, a tendency which heroic juicings with Western action, wild and woolly, do not check. Still and all, it's a funny idea, cleverly engineered, with enough velocity at the outset to carry it most of the way.
Mr. Crowther considered Annie Get Your Gun, also playing in New York City at the time, superior to A Ticket To Tomahawk; thusly he viewed Fox's cowgirl picture show as an uncompetitive venture. How can I, just an amateur reviewer of movies, improve upon or question the opinion of the most influential movie critic of all time? I certainly can't improve upon his poetic prose, and I dare not question his conclusion. I will only add that most of the movie was shot on location in Colorado, namely Durango, Rockwood, Silverton and Molas Lake. The nearby and geographically associated environs are stunning in Technicolor.
The most influential movie critic even goes on to compliment the performances of Walter Brennan, Anne Baxter, Dan Dailey and Rory Calhoun. Still and all, for my dime, Anne is just too cute and petite for the part of Kit; but she seems to be having some fun with the naive but tough, dangerous gal aspects of the role. I find the way she handles her six-shooter to be slightly awkward. I was going to say girlish but thought better of it. She is a fearless female long before the arrival of Sigourney Weaver and WO Ripley made fearless females the rage of Hollywood.
Like Anne Baxter, Dan Dailey appears to enjoy playing the uniquely knowledgeable and well-traveled salesman, Johnny "Behind the Deuces" Jameson; and Rory Calhoun does what he can with the duplicitous Dakota, the stereotypical one-dimensional bad guy working for the evil, the selfish, the avaricious stagecoach line owner. Unusual for a movie made in the 1950s, two of the Indian characters are actually portrayed by native Americans: Pawnee, Kit's companion and bodyguard, is played by Chief Yowlachie, and Crooked Knife, blood brother to Johnny but Chief of the unfriendly tribe at war with the palefaces, is played by Chief Thundercloud, the Lone Ranger's companion, the one and only, Tonto.
There's not much that can be said about Marilyn's character, Clara, a member of the burlesque troupe traveling alongside the railroad. No acting required, just the performance of a burlesque. She performs it energetically in her bright, yellow costume, along with her fellow troupe members, and the multi-talented Johnny "Behind-the-Deuces". She is cute. Clara's singing voice, however, does not sound like Marilyn's. I believe her vocal part was overdubbed, although I have yet to verify that. If you look closely during the Indian attack scene at 55m02s into the movie, you'll see Clara toting a six-gun, the only time in Marilyn's movie career that she handled a firearm.
Her appearance in the movie was not credited.