Marilyn's First Appearance on Film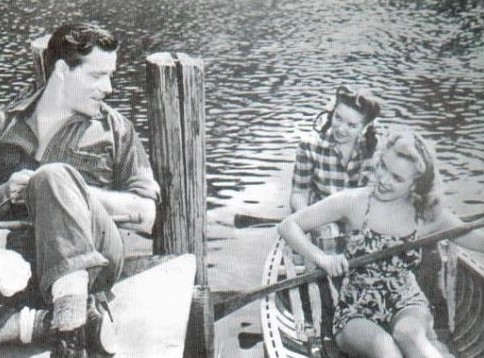 Along with two mules, and a few other human beings, the cast of this obscure movie includes June Haver, Walter Brennan, Anne Revere and Natalie Wood, who was nine years old at the time. Walter Brennan, considered by many movie critics and historians to be one of Hollywood's best character actors, is the only actor in movie history to win three Oscars in supporting roles: Come and Get It, Kentucky and The Westerner. While he did not win, he was also nominated for his work alongside Gary Cooper in Sergeant York. Anne Revere was nominated for three Academy Awards: Song of Bernadette, National Velvet and Gentleman's Agreement. She won Best Supporting Actress for her work in National Velvet. Natalia Nikolaevna Zacharenko, otherwise known as Natalie Wood, received three Academy nominations: Rebel Without A Cause, Splendor In The Grass and Love With The Proper Stranger. Natalie never won an Oscar. As far as I know, the mules never appeared in any movie other than this one and they were never nominated for or received any Academy Awards. An actress making an appearance in this movie would never even receive an Academy Award nomination but she would ultimately become the biggest female star in the history of female stars: Marilyn Monroe.
Even though Marilyn actually appeared in Scudda Hoo! Scudda Hay! prior to Dangerous Years, Twentieth-Century Fox Studio released their teenage delinquency movie slightly ninety days ahead of their life-down-on-the-farm movie. In 1948, Scudda Hoo! Scudda Hay! grossed $2M and finished the year in sixty-fifth position.
I'm no expert on movies made in the fifties, but I doubt that many of them depicted the problems of a blended family, a term probably unknown at that time. Scudda Hoo! Scudda Hay! depicts some of the problems that develop between step siblings when an unhappy husband and wife are not particularly interested in the feelings or the welfare of their step children.
Milt Dominy, a former seaman, played by Henry Hull, is a widower, remarried to Judith, an insolent woman and the evil stepmother, played by Anne Revere. Milt has a son, Daniel, nicknamed Snug, played by Lon McCallister, and Judith has a son, Stretch, played by Robert Karnes. Stretch is arrogant, older and physically larger than his stepbrother. Over the years, he was cruel to Snug; so there is a considerable amount of animus between them. Also, there is a considerable amount of animus between Snug and Judith. In the opening scene of the movie, for instance, Snug even suggests that his father should kill Judith or at least "kick her teeth in once and a while." Milt informs Snug that killing Judith, while maybe not a bad idea, is an impractical one; and while he might like to kick in Judith's teeth, Milt explains to Snug, Dominy men never raise hand, or feet, against "a female woman." Needless to say, the Dominy's relationship is not of the type manufactured in Heaven.
Nine minutes into the movie, Milt walks out on his blended family, leaves his wife, his son, his stepson and his farm: he returns to the sea. Before departing, however, he writes his Last Will and Testament and entrusts it to his friend Tony Maule, played by Walter Brennan. Milt bequeaths all of his worldly possessions to his only real son, Daniel "Snug" Dominy.
Both of the step brothers are romantically interested in Rad, played by the lovely June Haver. Rad is the pretty, vivacious blonde who attracts all the human, male animals in the farm town where the characters live. She appears to be more romantically interested in Snug, but she is dating Stretch. Enter Moonbeam and Crowder, two mules that become an integral part of the movie's plot. They impact the ultimate resolution of the love triangle between Snug, Stretch and Rad; and the mules are also integral to the resolution of some bitterness that develops between Snug and Rad's father, Robert "Roarer" McGill, played by Tom Tully.
Robert's nickname is appropriate because he "roars" constantly and at everyone. The elder McGill, who is also Snug's employer, purchased Moonbeam and Crowder to work as a team on his farm; but after he learns one of the mules resists being bridled, meaning it can't be driven or made to work, and one of them almost destroys his barn, Roarer decides, just like that, to kill them, the $300 he paid for them notwithstanding. He agrees, instead, to sell them to Snug for a $20 nonrefundable down payment and weekly installments. The Contract of Sale stipulates that Snug will pay $5 per week for a period one year or ownership of the mules reverts to Roarer McGill.
Stretch makes it clear that he will harm the mules if Snug keeps them on Dominy Farm; so Snug approaches Tony, who just happens to be a former mule skinner, about boarding the mules on his farm. Tony agrees, befriends Snug and introduces him to Mike Malone, the foreman for a logging company working nearby. Mike just happens to be looking for mule teams to drag logs.
Tony teaches Snug all about mules, instructs him on how to properly apply a mule bonnet. Eventually the mules submit to being driven, but only by Snug. A nefarious plot proposed by Stretch so that Roarer can regain ownership of the now valuable mules is overheard by Bean McGill, played by a precocious Natalie Wood. She reveals the plot to Snug and the proverbial mule poop hits the proverbial fan. The step brothers get into a fist fight, partially over the mules, but mostly over Rad. For all intents and purposes, Snug wins the fist fight; and Stretch threatens to harm Rad, who witnessed the brotherly altercation, if she ever reveals Snug's embarrassing victory. This prompts her to declare her love for Snug, which she felt all along. She was just playing that old favorite game of girls, the make-him-jealous-hard-to-get-game.
But before he can become self-employed, Snug must end his working relationship with Roarer; but instead of simply giving notice, like any normal person would, and just quitting, Snug intentionally angers Roarer who, of course, fires his employee on the spot. So Tony and Snug go to work for Mike Malone, earning $15 dollars a day dragging logs, and all is well until Tony goes on an alcoholic binge. He spends all of their money just when Snug must make a mule payment. Snug begs Roarer for a time extension and offers to pay $10 instead of the $5 he actually owes. But Roarer refuses to grant any additional time and accompanies the sheriff to Tony's farm. Just as Roarer is about to repossess the mules, Rad appears with $5 and pays her greedy and duplicitous father. Rad's interference, and her disapproval of his dishonesty, is not well received by dear old dad; but Milt, Snug's forgotten, seafaring father, comes to the rescue.
How, you ask? Well, he dies. As a result of Milt's death and his will, and Stretch's vengeful attempt to cripple the mules, the sheriff evicts stepmother and stepbrother from Dominy Farm. Totally victorious over his evil stepmother and stepbrother, Snug also wins a bet with Rad's father, the payoff for which includes Rad's hand in marriage: Moonbeam and Crowder pull Roarer's stuck tractor out of a plowed, muddy field. In typical Hollywood fashion, all is well that ends well, and we can assume that everybody lives happily ever after, including the mules, although nothing is revealed about the plight of Snug's evicted, former relatives. Perhaps they relocated to California where they found fame and fortune.
What does all the preceding have to do with Marilyn's appearance in the movie, you ask? Again, nothing whatsoever. Marilyn is on screen for four seconds, appearing at 51m41s and disappearing at 51m45s. Rad and her younger sister, Bean, are standing on the steps of a church. Among the folks exiting the church, Betty (Marilyn) and an unidentified older woman emerge through the church doors and begin to descend the steps behind Rad and Bean. Betty is wearing a lavender pinafore over a white blouse. Just before she clears the scene, she says: Hi, Rad. After Betty disappears, Rad says: O, Hi, Betty.
Even though the church scene appears in the version of the movie that I downloaded from TheMatrix, historians and cinema experts disagree regarding the scene's fate. A few experts contend that the scene survived in the American release while some contend that it was cut. A few experts contend that the scene survived in only the European release while some say it survived in both the American and the European releases. Marilyn believed that her scene landed on the cutting room floor.
Another scene with Marilyn wearing a one-piece floral swim suit and paddling a canoe, while sitting beside another young woman, was filmed in close-up but cut from the movie's final version. In the version I have, two young women paddle a small boat in the background of a swimming scene. One of them is probably Marilyn, but her face is impossible to distinguish.
While often goofy, the movie is fairly entertaining, if a bit mean-spirited. The score is better than average, as is the color photography. The acting is a bit perfunctory, at times; but Walter Brennan makes for an animated and convincing mule skinner and June Haver, who was a bright, sexy young woman, creates a natural and appealing Rad. Natalie Wood is terrific as the nosy Bean, Rad's pugnacious and precocious baby sister. The real natural stars are the two mules and each renders a realistic and convincing portrait of, well, a mule.
As a movie depicting life down on the farm, however, this one leaves something to be desired. Keep in mind, it depicts Hollywood's version of life down on the farm. But dare I say the only reason this movie has any relevance at all is because of Marilyn's walk-by. Her screen appearance was not credited.