Marilyn's first lead role in a musical.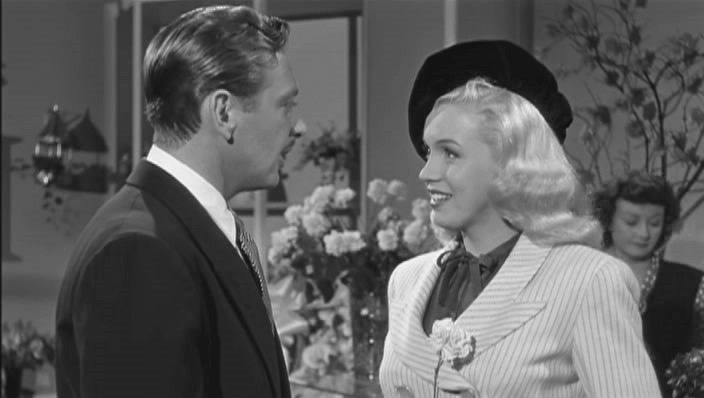 For a movie made in a mere ten short days and one that is mostly a cliché about cross pollination between societal classes, Ladies of the Chorus is surprisingly entertaining. I recognize that is one of those all-things-considered kind of compliments, the intent of which is to excuse or justify obvious flaws. Yet, it's difficult to imagine any movie being completed in ten days, even a one hour, low-budget, black and white musical like this one.
I kept driving past the theater with my name on the marquee. Was I excited. There was my name up in lights. I said: 'God, somebody's made a mistake.' But there it was, in lights. And I sat there and said: 'Remember, you're not a star.' Yet there it was up in lights. I wished they were using Norma Jeane so all the kids at the home and schools who never noticed me could see it.

I must confess, however, that one aspect of the movie confuses me and I'm not sure what I should think. Here's the rub: during the course of their act, do the ladies of this particular chorus remove their clothes? Do they strip? Do they get neked? Other than revealing some shapely leg, striptease is never even suggested. So, from what is depicted, I conclude that this particular chorus line and burlesque queen remain fully clothed. The fifties' Production Code would never have allowed any actual stripping to be shown, of course; but, if stripping or nudity were at least suggested, or maybe some other form of covert sexuality, I might understand what amounts to the implication that a scarlet letter has been imprinted on the burlesque dancers in this movie. Not a capital A, of course, but a capital W or, maybe in today's vernacular, a capital H, the initial of that rudimentary garden tool used to chop weeds outta cotton. This scarlet letter, along with its associated stigma, must appear, like a pressure transfer, on any man, particularly wealthy socialites, interested in one of the dancing burlesque gals. The Cleveland socialites and bon vivants attending Peggy's engagement party, near the end of the movie, act like they've found a dead cock roach in the punch bowl when they learn that she is a burlesque queen. One of the guests expresses incredulity that Randy would get involved with a girl like that. I interpret such a negative reaction and comment to mean that Peggy is somehow unworthy due to an understood or at least an assumed sexual impropriety. However, Peggy is presented throughout the movie like she is virginal and as pure as snow on Christmas morning. Such contradictory suggestions and sexual implications baffle me and the movie never really gets around to clarifying them.
In spite of the slightly one-dimensional men they portray, the actors deliver passable performances. Rand Brooks and Eddie Garr do what they can with Randy Carroll and Billy Mackay, respectively. Fundamentaly, Randy is a mamma's boy; and Billy's main purpose in the movie, I suggest, is to warn Mae about the dangers of wedding a wealthy socialite, a warning she ignores, of course; he is also needed to make the ending work. But mostly, Randy and Billy are foils for the stronger, more interesting female characters.
From the snarky, humorous chorus girls to Randy's imperious but likable mother, the females are smart, savvy women who understand men and tolerate their often foolish behavior. Adele Jergens is natural and relaxed as she portrays Mae, a rather manipulative but self-confident, single mother who survived an ill-advised marriage and single-handedly reared her gorgeous daughter.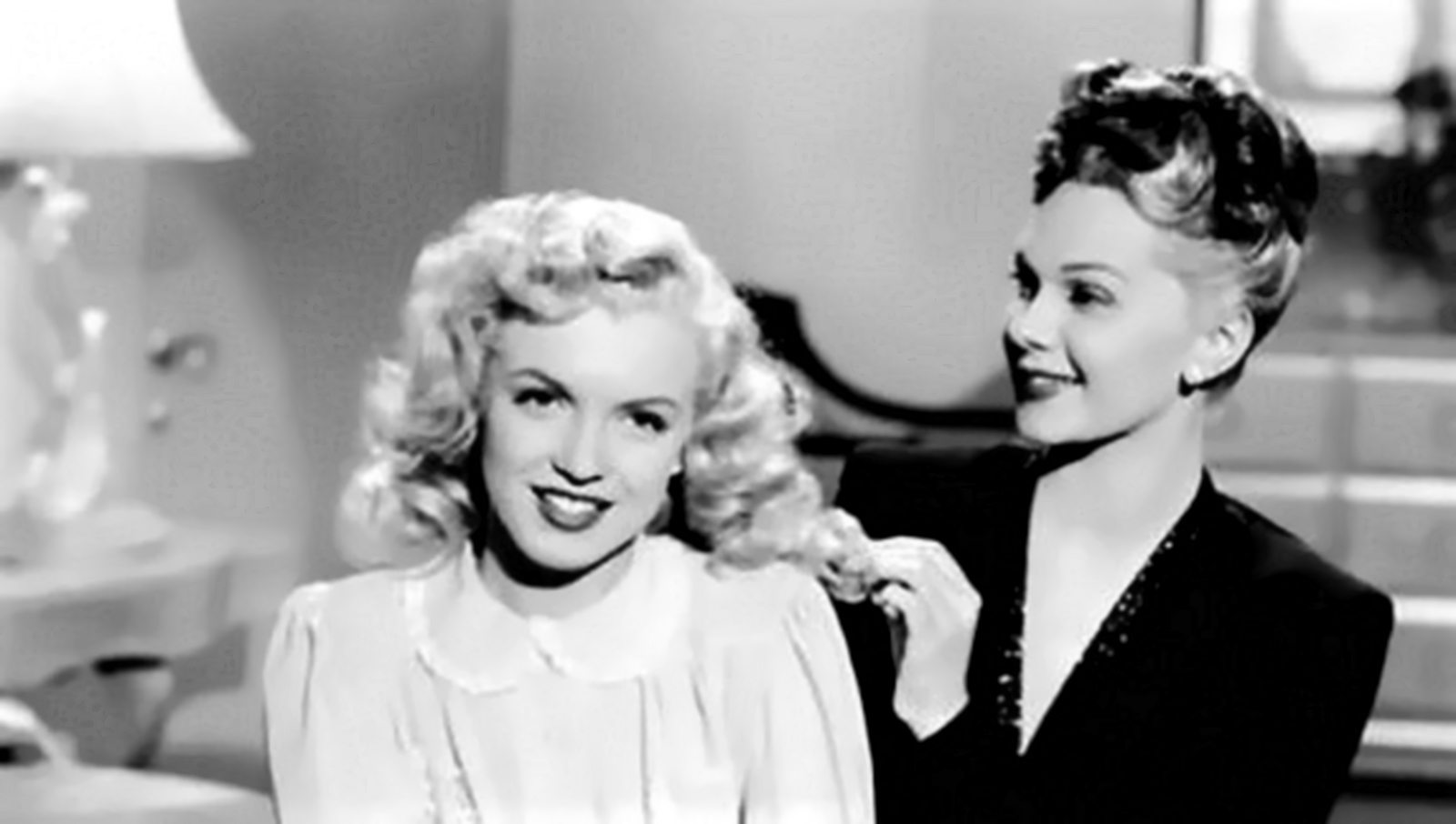 While Marilyn is not quite as natural and relaxed as she would become in later roles, she still easily renders Peggy as a blend of girlish sweetness and womanly confidence. Unafraid to speak her mind, as she does with her mother, Peggy is obviously comfortable with men and confidently maneuvers a nervous and diffident Randy during their first face to face meeting. The flower shop scene is endearing; and Peggy, the confection, is sugary sweet and stunning. Primarily because of Peggy's beauty and sweet disposition, I suppose, I can accept the Randy and Peggy love story, or more precisely, perhaps, I accept the love that Randy professes for Peggy, even though the treatment it receives never goes beyond a superficial doe-eyed puppy-love level: she is wonderful and beautiful and O, I love her. Peggy's love for Randy gets a similar superficial treatment. An actual man to woman, adult conversation between Peggy and Randy would have added a level of reality that is missing from their relationship; and yet, their sweetness adds to what amounts to the movie's naïve charm.
I can accept the love between Randy and Peggy, but the love triangle involving Mae, her ex-husband, Alan Wakely, and Billy, Mae's stage partner, is just much too obtuse for me to accept. I probably should not refer to their relationship as a love triangle: the relationship between the three does not form a conventional triangle as such. Billy, it seems, loves Mae, but he has never revealed his true feelings to her. Additionally, there is no indication whatsoever, leading up to Mae's flashback story about her ill-fated marriage to Alan, that she and Billy were ever romantically involved or that she harbors any romantic feelings about Billy: he is presented clearly as her stage partner and friend. It is clear, also, from her narrative to Randy, that Mae was hopelessly in love with Alan and he with her: he constantly proposed to her. I find it hard to believe that Mae would not have revealed to Billy her love for Alan nor mentioned Alan's constant proposals. Even so, Billy shows up with a ring and intends to propose marriage to Mae. Why? From what do these connubial ideations spring; and since the story works without this forced love triangle, why even include it in the narrative? Answer: to setup the movie's strained ending. But, by having Mae, during her narrative to Randy, tell us about the ring and Billy's intention to propose, the screenwriter creates a plot hole. Even though Billy reveals to Mae in a rather joking manner the he has been in love with her for some time, he never proposes to her and never shows her the ring. Later in the movie, he gives the ring as a graduation gift to Peggy, never revealing to Mae its original purpose. So Mae could not have known about the ring or Billy's plan to propose. This plot hole gets enlarged at the end of the movie when Mrs. Carroll suggests a double wedding, Peggy to Randy and Mae to Billy. Here's how.
Randy does not reveal the odiously evil burlesque past of Peggy and Mae to Mrs. Carroll at any time before the engagement party and then only inadvertently. If I am expected to assume that Billy related some important historical information during several off-screen conversations with Mrs. Carroll, that is an assumption I am not prepared to make. I suppose I should assume that Billy revealed his love for Mae during his walk down the stairs with Mrs. Carroll; but considering that mother Carroll is about to fake being a former burlesque dancer herself, in order to save the day, I find it hard to assume that she and Billy would be discussing his past love life and future marriage plans. In short, there is no way mother Carroll could have known anything at all about Mae and Billy or Billy's undying love for Mae. Plot hole thereby enlarged.
I recognize that these narrative inconsistencies change the story very little and so I'm probably making much ado over nothing. But holes are holes and once I see them, I find it difficult to see through them.
Several contemporaneous reviews of the musical commented that Marilyn was a bright spot, a very pretty young woman with a pleasant voice who showed promise. That's a fair, accurate assessment of Marilyn's musical performances. The choreography is not the best that one will ever see; and Marilyn seems slightly tentative and less fluid at times, a stiffness blamed on the influence of Natasha Lytess, her drama coach. Marilyn's singing is more than pleasing, however, and she displays a remarkable control of pitch and range. Perhaps more remarkable is her on-screen lambency. Even in this early role, when Marilyn appears in-frame, everything around her fades into the background. And, of course, she is more than pretty.
The real dancer in the movie is Adele Jergens but the song she performs, "I'm So Crazy For You", was overdubbed by Virginia Rees. The song performed by Mrs. Carroll, played by Nana Bryant, "You're Never Too Old", was not overdubbed and neither were any of the songs performed by Marilyn.
Harry Cohn, president of Columbia Pictures, was not impressed with Marilyn's performance and as a result, her contract with Columbia was not renewed. Her dismissal from Columbia did not have the same impact on her as her earlier dismissal from Fox. After a brief hiatus from the rigors of acting, Marilyn's next appearance on film would be in a Mary Pickford production, featuring her in a scene with the one and only Groucho Marx: Love Happy.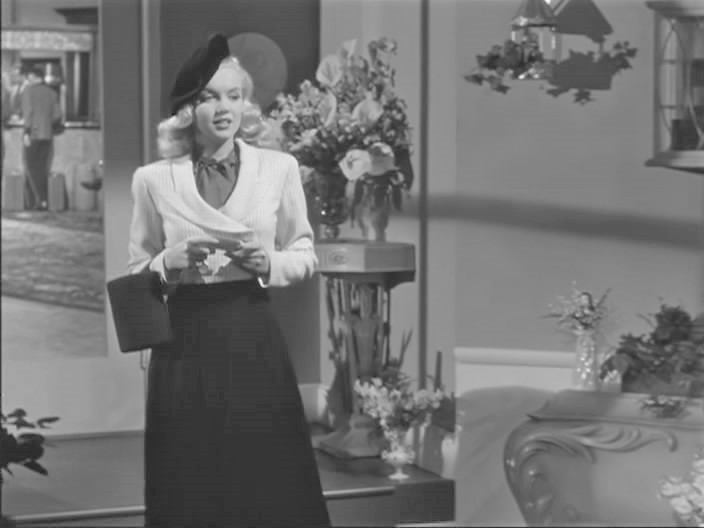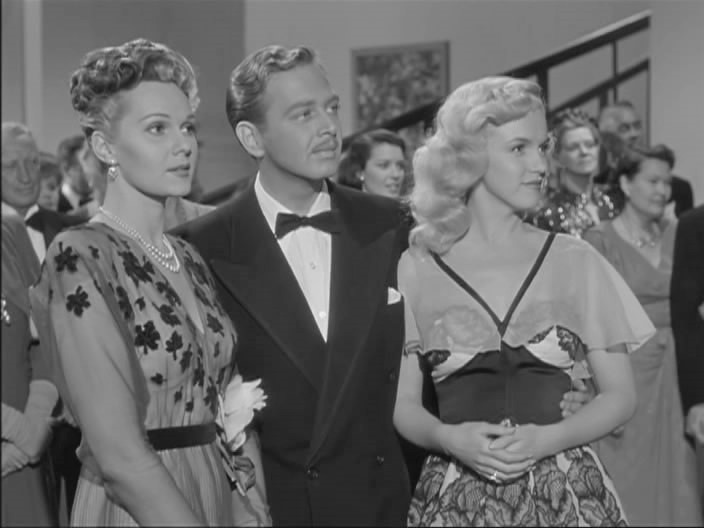 Cast Notes
Rand Brooks was the first actor to share an on-screen kiss with Marilyn; but his real claim to fame is his role as Charles Hamilton, Scarlett's first husband in Gone with the Wind. He performed in many other movies but most notably Joan of Arc with Ingrid Bergman and Babes in Arms with Mickey Rooney and Judy Garland. He also appeared in many television series in the 1950s. After he retired from making movies, he started an ambulance company that became the largest private service provider in Los Angeles County. He was once married to Stan Laurel's daughter, Lois. Rand died in 2003 at the ripe old age of 84.
Eddie Garr was a well-known night club entertainer and celebrity impersonator in the 1930s. Best known as the Master of Ceremonies on TVs "Vanities on Parade", he also appeared on "The Colgate Comedy Hour" and "Make Room for Daddy". Eddie is also the father of actress Teri Garr. He died from a heart attack at the age of 56.
Adele Jergens was a showgirl who became a Rockette in the 1940s and was named the Number One Showgirl in New York City. In 1944 she signed a contract with Columbia and starred in several films as a burlesque dancer, notably Down to Earth with Rita Hayworth and The Dark Past with William Holden. Even though Adele played Marilyn's mother in Ladies of the Chorus, she was only nine years older than her costar. Originally, Adele received top billing above her on-screen daughter, but Columbia Pictures re-released the film in order to capitalize on Marilyn's fame. At that time, Columbia modified the opening credits and gave Marilyn top billing. Remarkable for Hollywood relationships, she was married to actor Glenn Langan for 42 years. Born in 1917 in Brooklyn, she lived to see the new millennium, dying at the age of 84 in 2002.
Natasha Lytess (AKA Tala Forman) was the staff drama and acting coach at Columbia when Marilyn signed her six month contract. Natasha left Columbia and became Marilyn's formal drama coach, a function she performed through the filming of The Seven Year Itch. Marilyn's directors, co-stars and many other Hollywood notables blamed Natasha over the years for what is often termed Marilyn's stiff mannered speech. As an actress, Natasha appeared in only three movies: Comrade X, Once Upon a Honeymoon, and House on Telegraph Hill. She appeared in those movies with Cary Grant, Ginger Rogers, Clark Gable and Hedy Lamar. Natasha died on May the 12th in 1963 at the age of 52.
Harry Cohn was probably the most despised man in Hollywood. Years later, Marilyn stated unequivocally that Cohn did not renew her contract because she refused an invitation to accompany him on his yacht. Cohn also made other sexual advances. She told Cohn, Marilyn recalled, that she would love to go on a cruise with him and his wife. Obviously, a social cruise, including his wife, was not what Cohn had in mind. Later, after Marilyn's rise to international fame, Horrible Harry admitted his mistake. Marilyn was just one of many female stars that Horrible Harry terrorized. His victims also included Rita Hayworth, Mary Castle, Kim Novak and Joan Crawford.